Bringing families together since 1976, Red house is one of the oldest seafood restaurant in Singapore that survived the test of time. They use to be located in a 'Red House' literally, decorated with red lanterns on the exterior at Upper East Coast Road, due to the move, they preserved the red lantern as their logo till today. And they have 3 outlets island wide, serving up the freshest seafood to customers at East Coast, Robertson Quay and Prinsep Street)
To celebrate their 38th Anniversary, Red house has come up with new dishes, set lunches and 2 celebratory set dinner which is available from now till 30 June 2014. The 7 Course Set Dinner consist of freshly flown in Live seafood from Scotland, How fresh ? They are flown in at least 3 times a week, That is really Fresh! And each Dinner set priced at $388++ for 6 Persons, AND is inclusive of a bottle of champagne OR Premium White wine OR 2 Jugs of beer!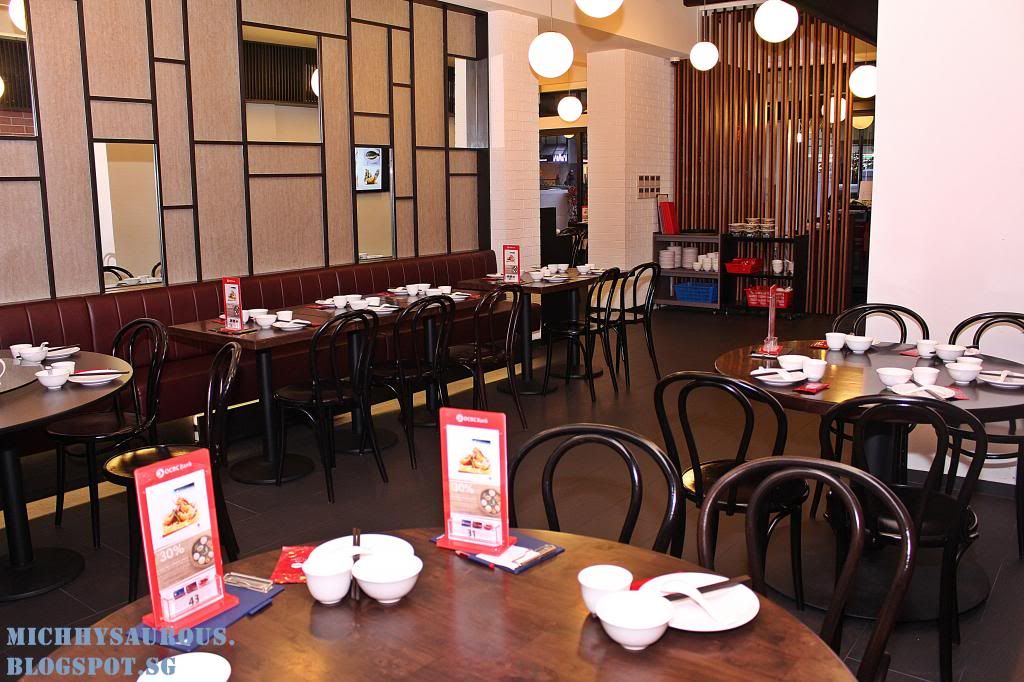 I was invited to try out their 'Modern' Anniversary Set Dinner spread, so lets take a look at what we can get at $388++ for 6 pax with free Champagne OR White Wine OR 2 Jugs of Beer!
I had to google what was whelks, I bet some of us have to too. Well, they are basically sea snails but they are not EWWW but more of Mmmmmm when tossed with the sweet & spicy dressing accompanied with silvers of mango and onions.
Chilled Spicy Whelks - $35
I grew up eating Sri Lankan Crabs and Japanese Soft Shell Crabs, lol. And now I have another crab to add into my collection, the Scottish Brown Crab! The Scottish Crab's flesh is firm but flaky, when tossed with the white pepper, it makes it finger licking good!
Scottish Brown Crabs in White Pepper - $58/Kg
I love Fish, Steam, Fried, Sashimi, I love them! This Megrim Fish shocked me at the price tag and I must say it's worth every penny. Smooth and tender texture steamed with simple condiments such as garlic and Superior soya sauce, brought out the freshest of the freshness it offers.
Garlic Steamed Megrim Fish - $100/Kg
If you want something more exciting, you can opt for the Spicy Seafood Combination instead of the Migrim Fish. A thai inspired creation that includes Fresh Cuttlefish, Scallops, Shrimps and Garoupa Fish Slices in a enticing Kaffir laced curry sauce. Dip it with the mantou(steam or fried) for a resemblance to chilli crab.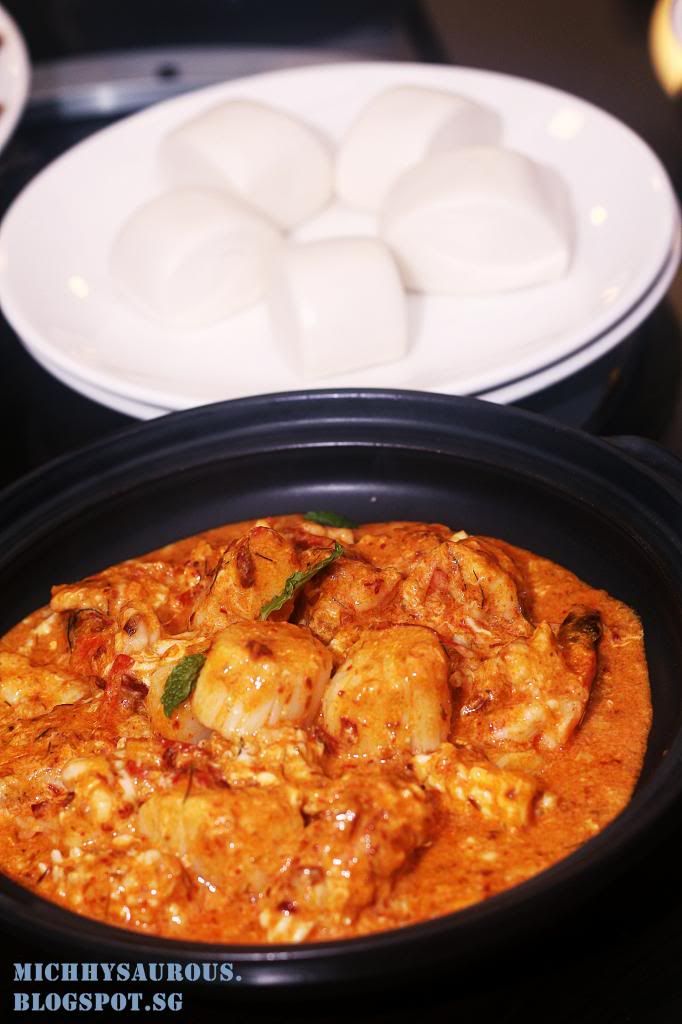 Spicy Seafood Combination -
My Favourite of the night, the Scottish Blue Lobster coated with sweet mayonnaise, What could go wrong with Mayonnaise? Hahaha! The flesh of the Beautiful Scottish Blue Lobster is firm and slightly springy and when paired with the special sweet mayonnaise, I couldn't help licking the sauce off the shell!
Scottish Blue Lobster Coated with sweet Mayonnaise - $148/Kg
Huge Scottish Oysters rest on a bed of fluffy eggs covering the Yuan Yang Hor Fun, which basically means the mixture of the crispy deep fried hor fun & sliky smooth hor fun sitting in a pool of delicious thick gravy. Every bite of this dish makes me crave for it more & more. I think I can finish it on my own. hehe.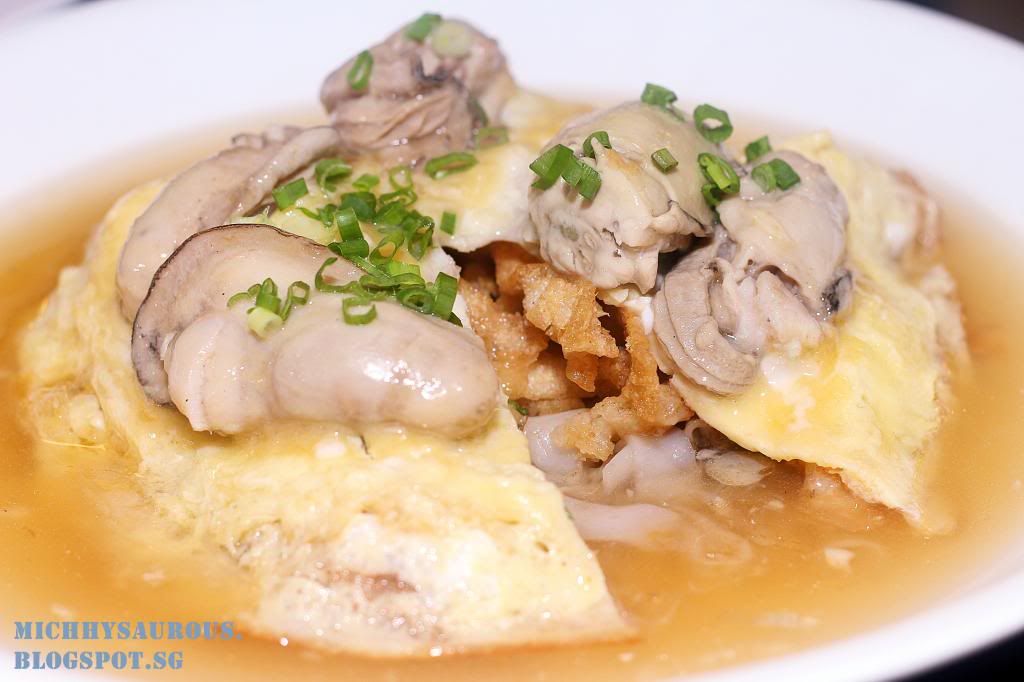 Oyster Yuan Yang Hor Fun - $20
Of course there will be daily Greens served in the set dinner, As well as daily desserts! YAY! But here I want to share with you the dessert that I had that day. The Lime Sherbet with Lemongrass Jelly makes a refreshing end to the whole meal adventure and it cleanse my palette and marks a sweet ending to the day. The latter, Mango Pomelo with Sago was a tad disappointing due to the bitter pomelo and runny mango puree.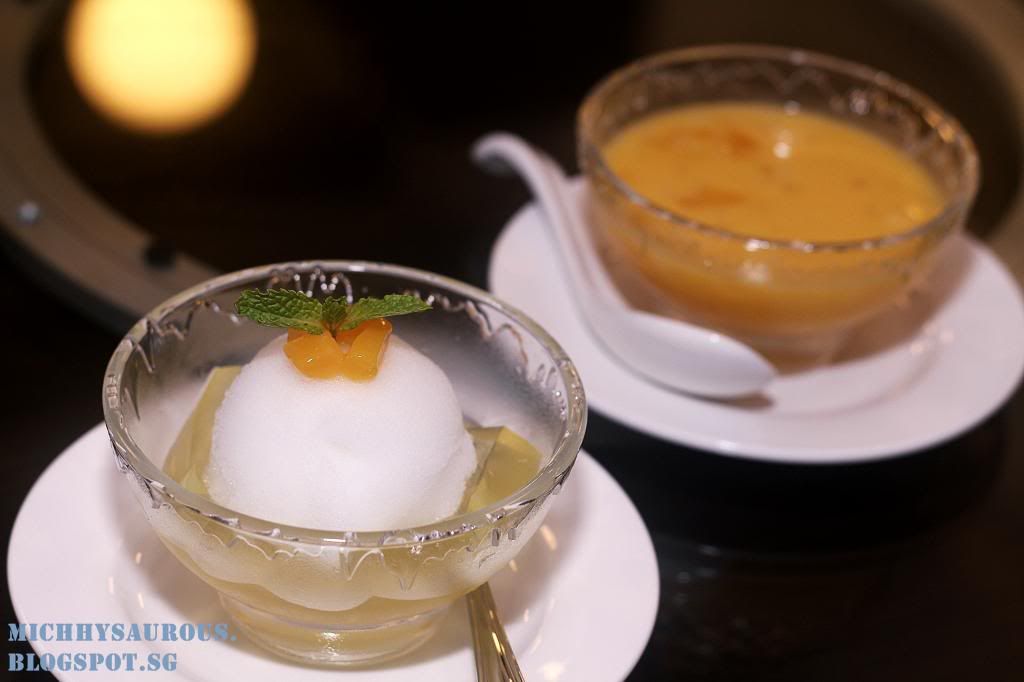 Lime Sherbert with Lemongrass Jelly - $6.80, Mango Pomelo with Sago - $4.80
Red House Seafood's Chilli Crab Pao uses the REAL Chilli Crab Sauce that they extract from their Chilli Crab and they wrap it up in fluffy pao and steam it or Fry it! The Burst of the chilli crab sauce its like a Liu Sha Bao(salted egg yolk pao) but with chilli crab goodness! SUPER RECOMMENDED!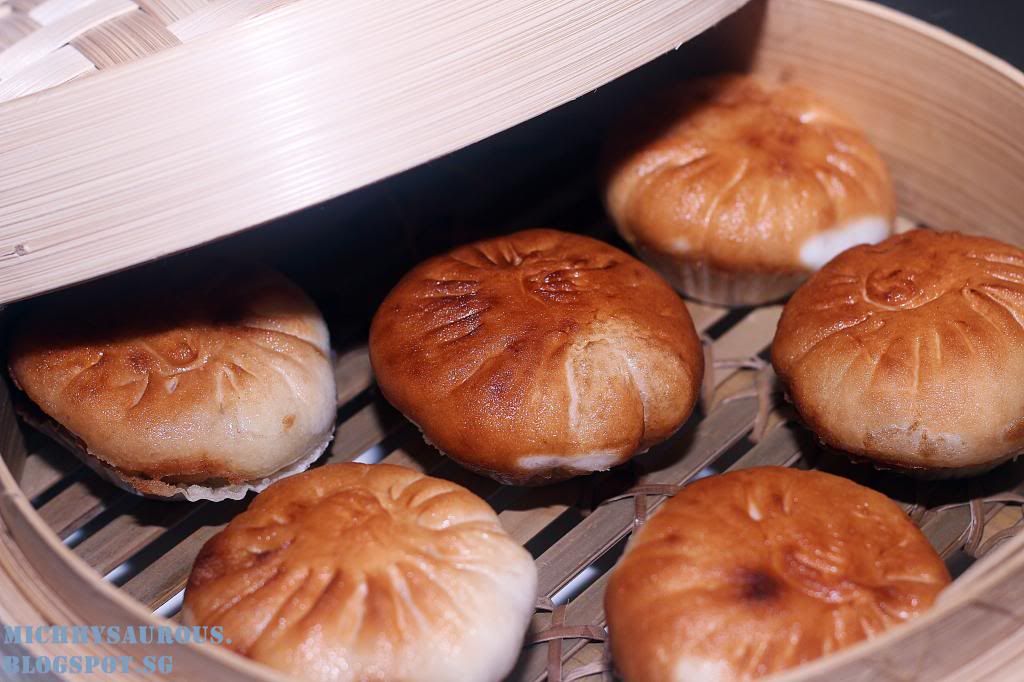 Chilli Crab Pao (steamed or fried) - 3 for $8 (Only Available for Lunch!!)
Red House Seafood has also come up with a New Set Lunch Menu. It's a five-course set lunch at only $38++ For 2 person! The set lunch comes with a Dim Sum Basket of siew mai, mixed mushroom dumpling, scallop & chives dumpling, and oven-baked char siew pau made by the dim sum chef(dim sum choices may vary) Followed by their signature Creamy Custard Prawn, Oyster Yuan Yang Hor Fun and fried daily greens with a sweet ending of durian mochi as desserts! But please remember to order a set of Chilli Crab Pao too! Only Available during Lunch!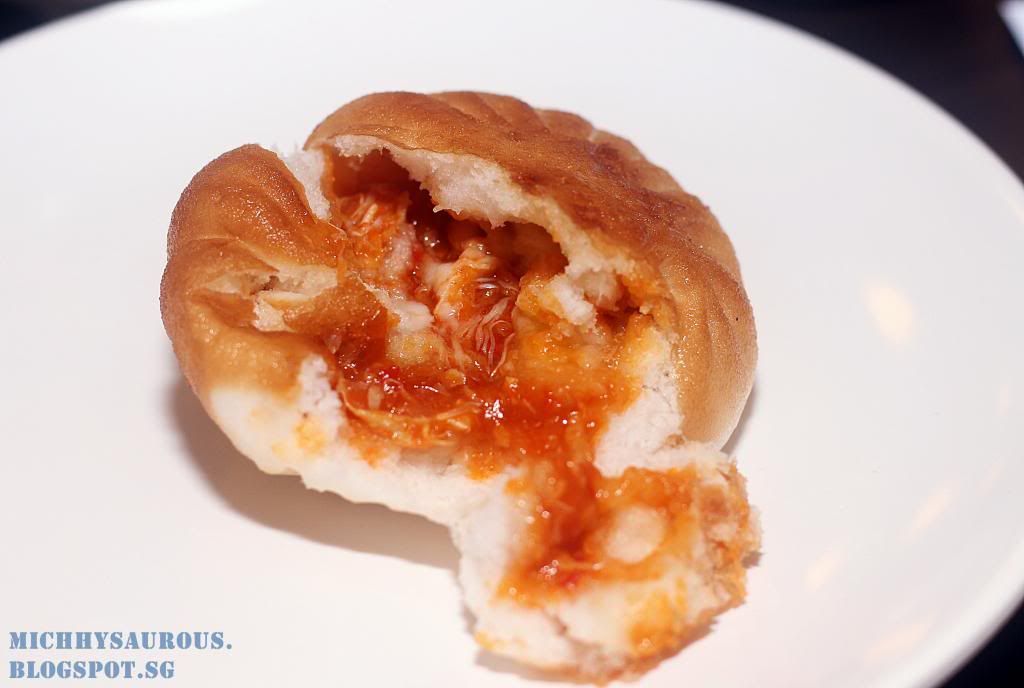 The Red House 38th Anniversary Set Dinner Menu is Available from now till 30 June 2014 Only at the Flagship Prinsep Street Outlet, which makes it a suitable place for Mother's Day celebration!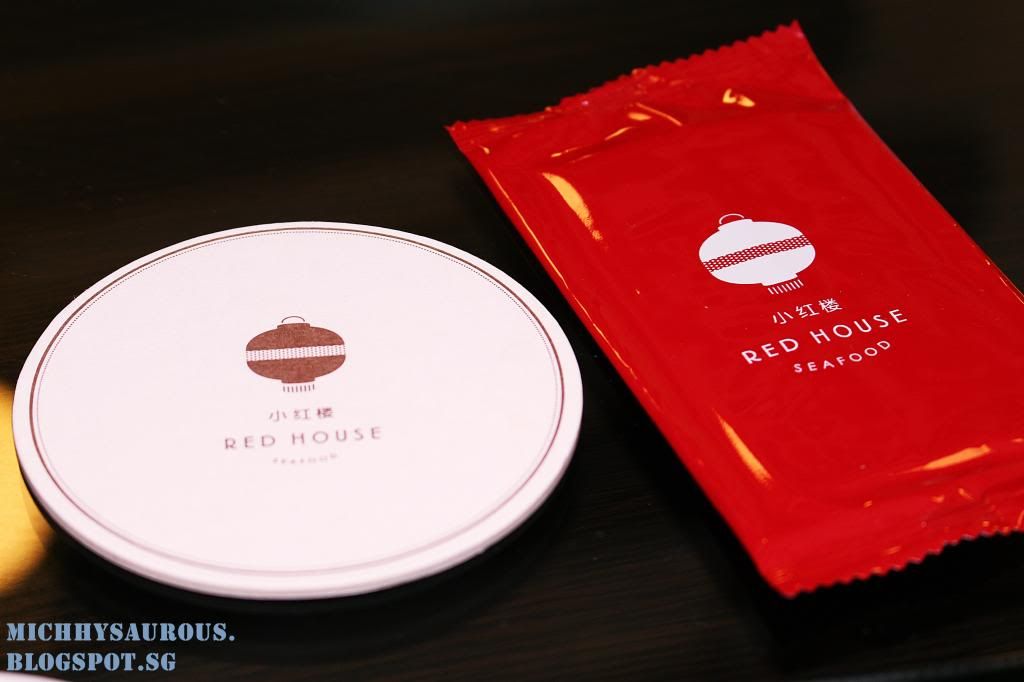 Address: 68 Prinsep Street, Singapore 188661
Opening Hours: Mon-Fri 11.30am-2.30pm, 5pm-10.30pm / Sat, Sun & PH 11am-10.30pm (last order 30 mins before closing)
Address: Blk 1204, #01-05 East Coast Seafood Centre, East Coast Parkway, Singapore 449882
Opening Hours: Mon-Fri 12pm-11.30pm / Sat, Sun & PH 11.30am-11.30pm
Address: #01-14 The Quayside, 60 Robertson Quay, Singapore 238252
Opening Hours: Daily 11am-11pm