STREET 50 Restaurant & Bar is Bay Hotel Singapore's good global flavours restaurant that brings you the best from around the world, offering diverse flavours from Italian, French and American and this time round, they are bringing you Asian flavours like Vietnamese, Indonesian, Thai and Singaporean but with interesting twists. some interesting options include the Lamb rendang, Fish in Tomato Sauce and also the Beef & Mango salad.
Pic Credit: STREET 50 Restaurant & Bar
Guest will be spoilt for choices with an array of delectable buffet items from spicy & sour appetizers to the feisty Chicken Teriyaki, Mutton & Chicken Satay and more. Apart from the the buffet spread, diners can expect to see a variety of Asian dishes available at the Action Station which will be rotated each week, Which are Mee Bakso (Indonesian), Roti John (Malaysian), Thai Beef Noodle Soup (Thai) Or even Mee Siam (Singapore).
The Spread consisted of fresh Mussels, Prawns & Scallops on a bed of ice accompanied with special Cocktail sauce or the usual Tobasco, Its your pick! I love to drizzle a little lemon juice on mine. Freshness of the prawns makes me want to eat at least 5, Sweet & cold & Crispy! :P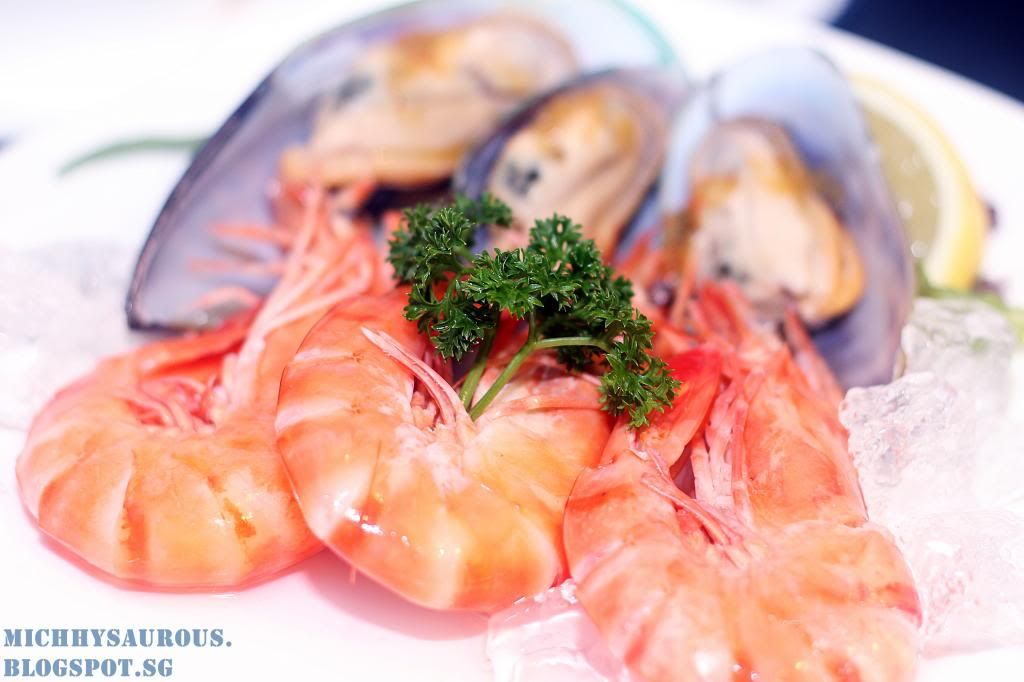 Malayan Flavours like Satay is available in Chicken or Mutton, I prefer the former as it is more tender. At the Live Station, you can expect the MOST DELICIOUS MEE SIAM I'VE EVER HAD here too. The chef will prepare each bowl of Mee Siam upon order so as to retain the freshness of each bowl of mee siam. I went for Seconds, oops. But their live station dish are on a rotational schedule so you might not get to try the mee siam when you're there.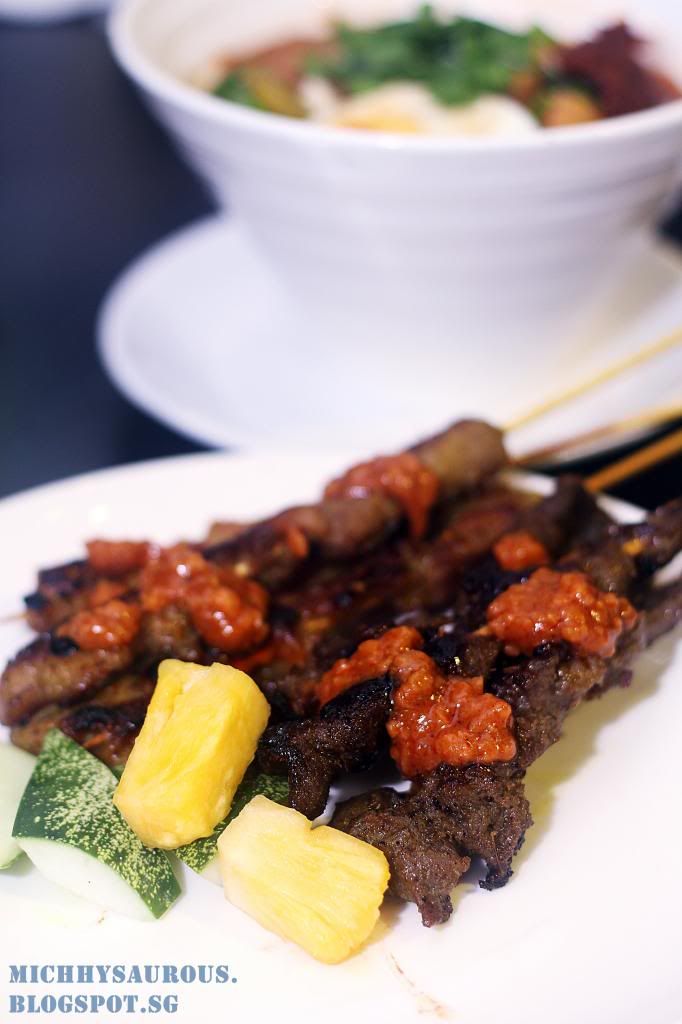 A little of Chinese, Vietnamese and Thai flavours can be spotted at this buffet special too. Creamy sauce Clams taste so familiar to something I could not describe, you have to try it for yourself! It's a little sweet, Clams are clean and the Cherry Tomatoes added a punch.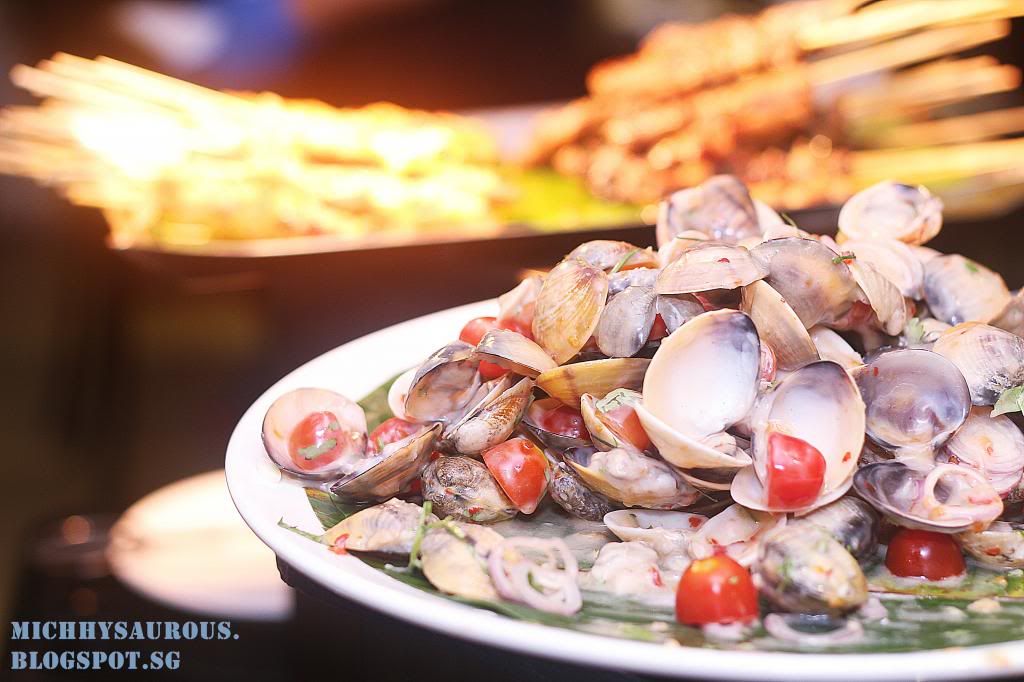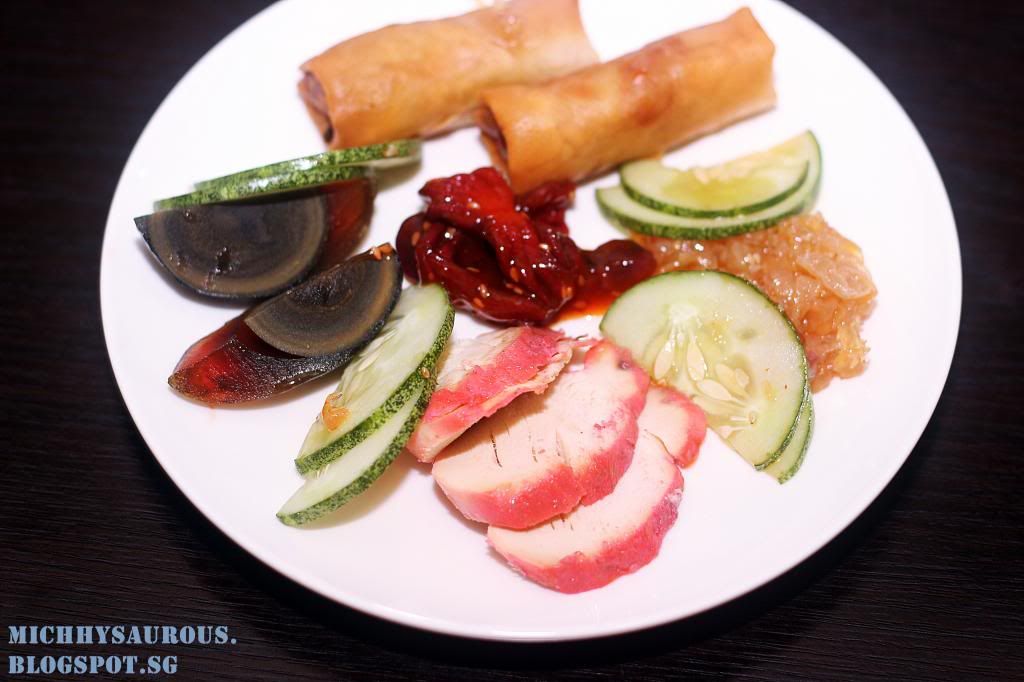 Appetizers are the start of the meal but I could not resist the crispy Fried Fish with Black sauce and I kept going back for more, It was more like a side dish for me that I could easily refill. Oops. The Tangy Mango & pork Salad is very refreshing as well, the mango is soft yet crunchy. Spicy goers can go for the spicy prawn and sambal mussels for that kick of spiciness. Kids can enjoy the Sugarcane Prawn which has a Real Sugar Cane wrapped with prawn paste, a tad dry but quite an interesting idea.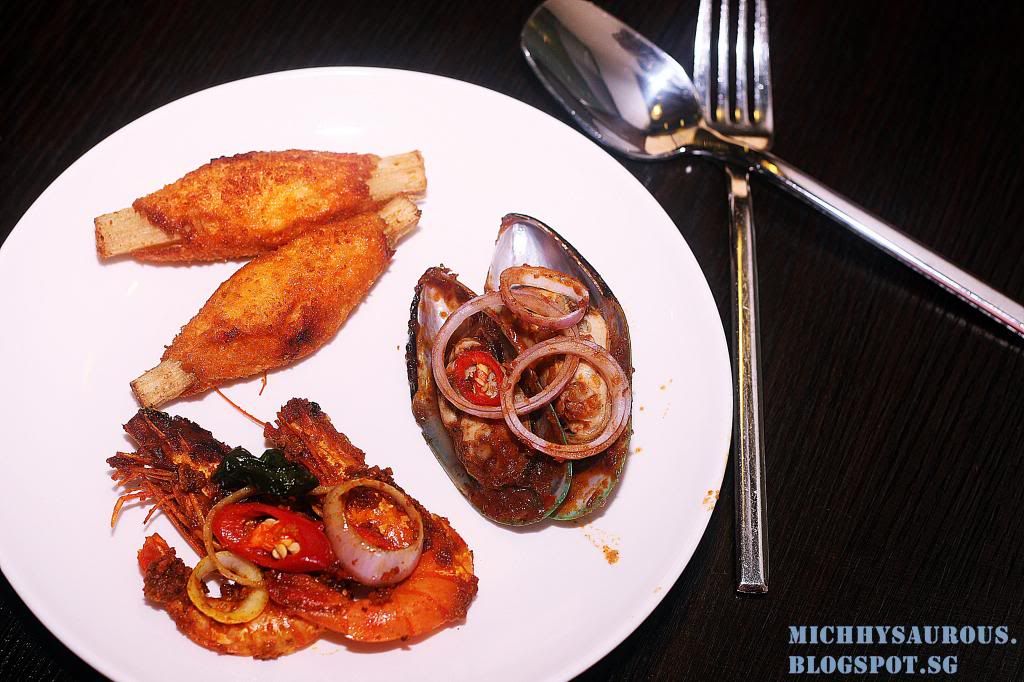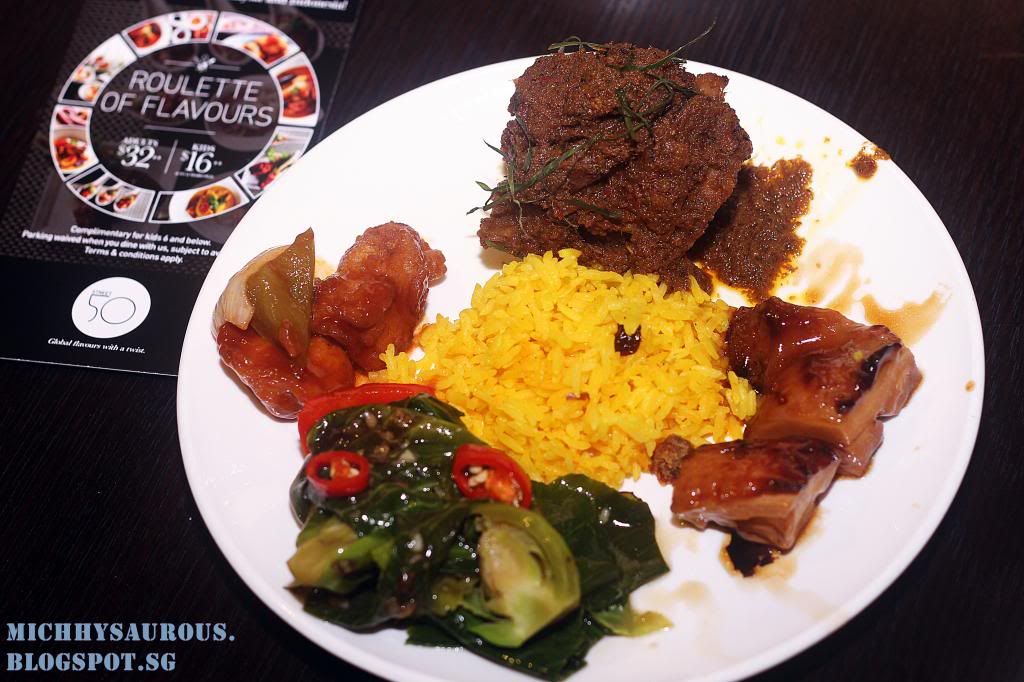 I love their Herbal Chicken, Fungus & Red Date Soup, It's such a Homely feeling sipping the hot soup and relaxing on a weekend afternoon. Can you imagine that?
For all the sweet tooth, STREET 50 offers a range of delectable nonya kuehs and also Durian Pengat and black glutinous rice. What caught my attention was the Banana & Sago Cotta, Not like the usual Panna Cotta, This creamy dessert tasted like marshmallows infused with bananas, its not cloying and I wish I could have to stomach for a second.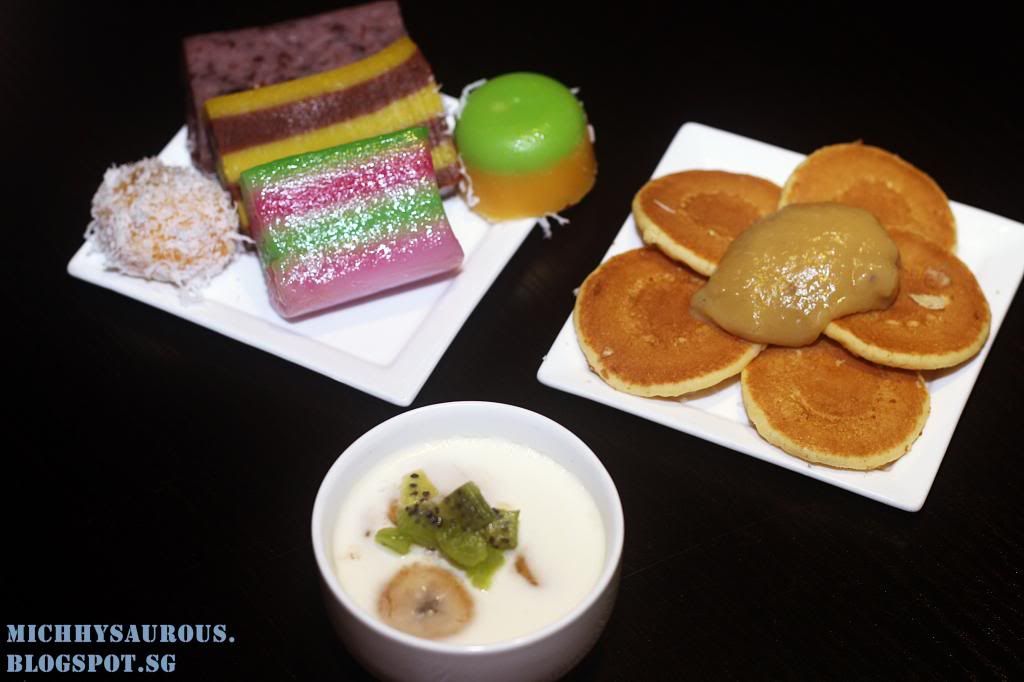 Childhood memory, sticky & sweet, drizzled with fragrant coconut milk, is the Black glutinous rice porridge. Many places does it bad that I refrain from eating it Totally. STREET 50 Gave me that confidence to try them out again, Not the best, but yes, Nostalgic.
And please do not miss out on their live station serving desserts like Thai Red Ruby or Mango Sticky Rice on rotational schedule, so you will not know what to expect! Well, you can always call to ask first! :P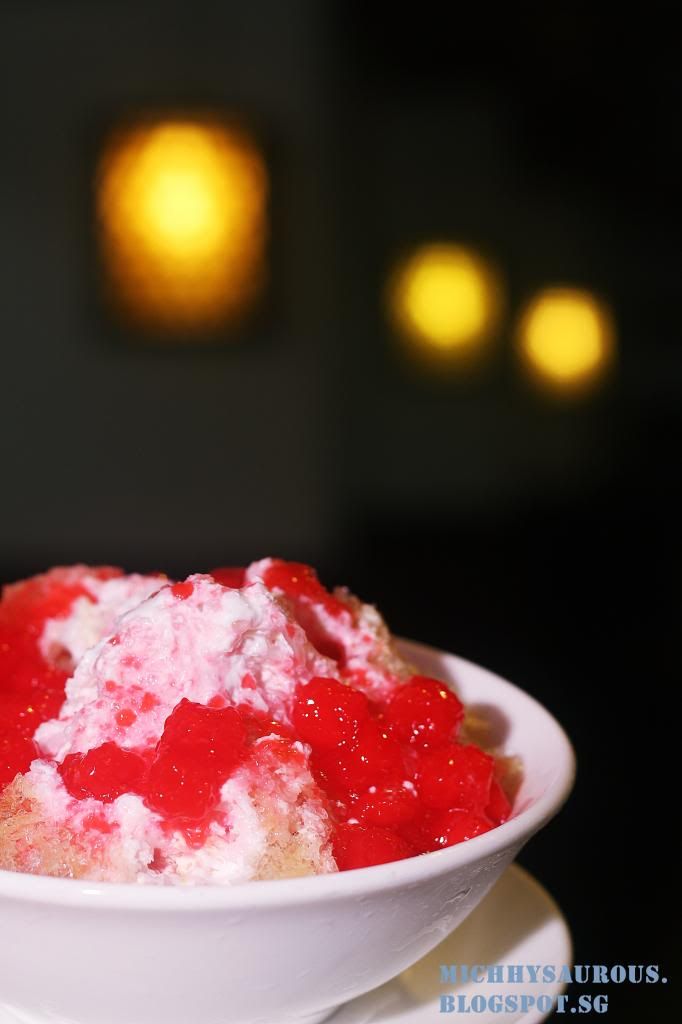 Buffet is Available from 12pm to 4pm on Saturdays & Sundays.
Adult: S$32++ for buffet spread
Additional: S$8++ for free flow of juices, soft drinks, coffee & tea
Kids 6 - 12 Years Old: S$16++ for buffet spread
Additional: S$8++ for free flow of juices, soft drinks, coffee & tea
Kids
Below 6
get to enjoy the Roulette of Flavours buffet for FREE with every payin
g adult
Psst! STREET 50 Restaurant & Bar is currently having an ongoing promotion that entitles Adult customers $10 off the Roulette of Flavours weekend lunch buffet on their Facebook page, Check it out!
STREET 50 Restaurant & Bar
Facebook: www.facebook.com/STREET50