The Glamorous all Girl Group clad in white costume is out to show you what Broadway can offer! They aim to show you the Glitz & Glam that you've never seen before! It's Amberria!!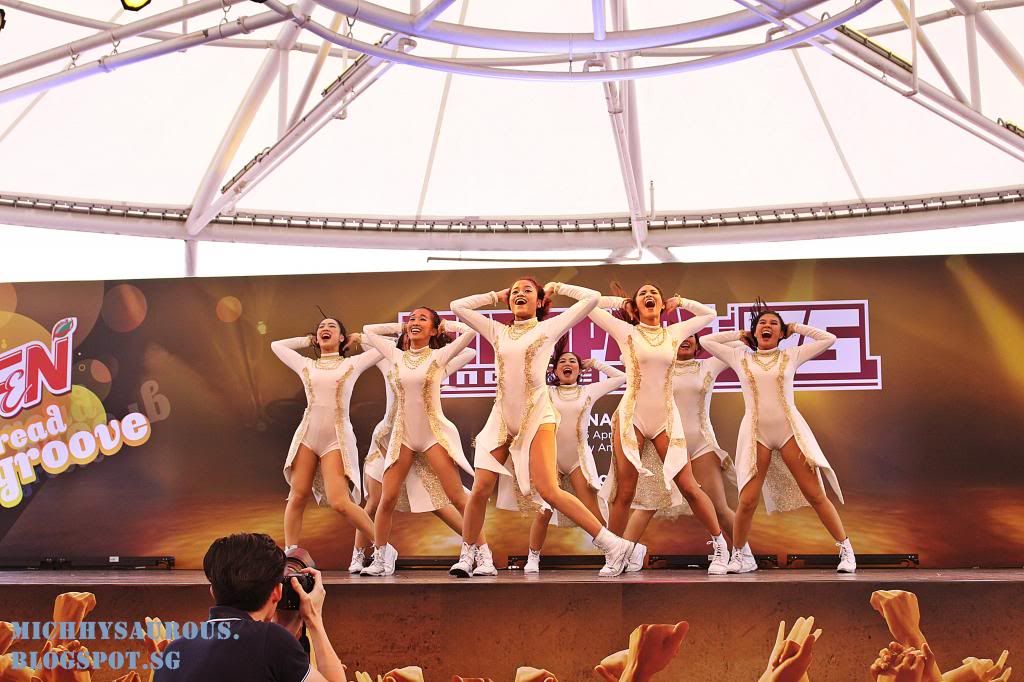 1. Why is your group called "Amberria" ?
Basically Amberria is a Mixture of two gems, Amber and Kyanite. When put together, it means that they do not absorb negative energy, and its something very positive. So, that's what we want to achieve in this group
2. How did you guys come together as Amberria?
We are actually from New Revolving Age (NRA - Ngee Ann Poly Hip Hop Club) and we were selected by our instructors, Choreographers to come together as a group.
3. What is Amberria's Dance Inspiration?
Hmmm.... (looks at each other) Showgirl! Broadway! (Yea, that's what I saw at the Preliminary rounds too! All the Glam and Wow!) *smiles*
4. What is the biggest challenge that Amberria have faced so far as a group?
Erm, I guess it's communication? When we do choreography, ya. Because we were put together so there wasn't the chemistry at the beginning and we have different batches of dancing, so we don't really know one another that well... Yea.... BUT NOW!.... *giggles*
5. What does Amberria hope to achieve from taking part in FNNSDD5?
Basically is to bond together. Because each of us have a genre we are good in, coming together means we can learn from one another, and like push our body to the limit, and see what we can achieve.
And taking part in SDD (Singapore Dance Delight) together, Is like putting ourselves out into the dance industry in Singapore and like to step into the next level in the dance industry.
6. What Inspires all members of Amberria to continue dancing? What would stop you from dancing?
*A moment of silence* We will still continue dancing even after SDD, so we hope to stay as a group.
Nothing can stop us from dancing *crowd cheers*, it's only our mentality which we always stay positive like what we said earlier about Amberria, where we don't take in negative Energy and just absorb all the positive ones. It's quite a challenge at the same time, but it's just what makes us stronger. (What doesn't kill you makes you stronger right?)
7. So do you have special diets?
*All burst out laughing* We eat anything and Everything! After dance practice we just *vroom* eat all we can. And we drink KOI (Bubble tea) Every week, (EVERYWEEK?!) we eat Junk food every week, Our "branding" is like KOI. 5 minutes break we also eat. *laughs* After a long day practice, we just "KOI" "KOI" "KOI" "KOI" *chants* We look forward to "koi-ing" after practice.. THANKS KOI! *Peace Sign*
8. What is the hardest part about dance? Regardless in Group or Solo
I think it's feeling the music, like different music has different feels, so it's like difficult for one person to adapt into the music. Like we can get the steps and all, but to go on to the next level, we have to like be into the music. Like our choreographers always say, "Try to picture ourselves singing the song", so that when we dance, we will have the feel of the song. So, ya, that the challenge we face I guess.
And also expressing ourselves, sometimes like there are factors that affect us, like when we dance, we think about how people are thinking about us, etc.
9. Do you girls get stage frights? Or do you just go up there and "Boom!"
Ya, we don't think. *laughs* Just don't think(about anything) and just do it!
10. So how long have Amberria been together?
We've been together for 4 Months.. Or so.
11.So when you girls get together, is it only for practice or do you hang out as a group outside as well?
FOOD! (Ah, Koi!) YA!! *laughs* we eat as a group. (Hmm, that's what bonds huh? Food and common likings?)
12. So is there a preview or what kind of genre Amberria is going to perform at the Finals?
You'll See! *points* It's a mixture of Genre.. (So it's still going to be Glitz & Glam?) Yes Yes, that's our style! *smiles*
13. Could Amberria members give tips to fellow dance enthusiast who love to dance but are afraid to step out of their comfort zone?
Don't Think! Just Do it! *giggles*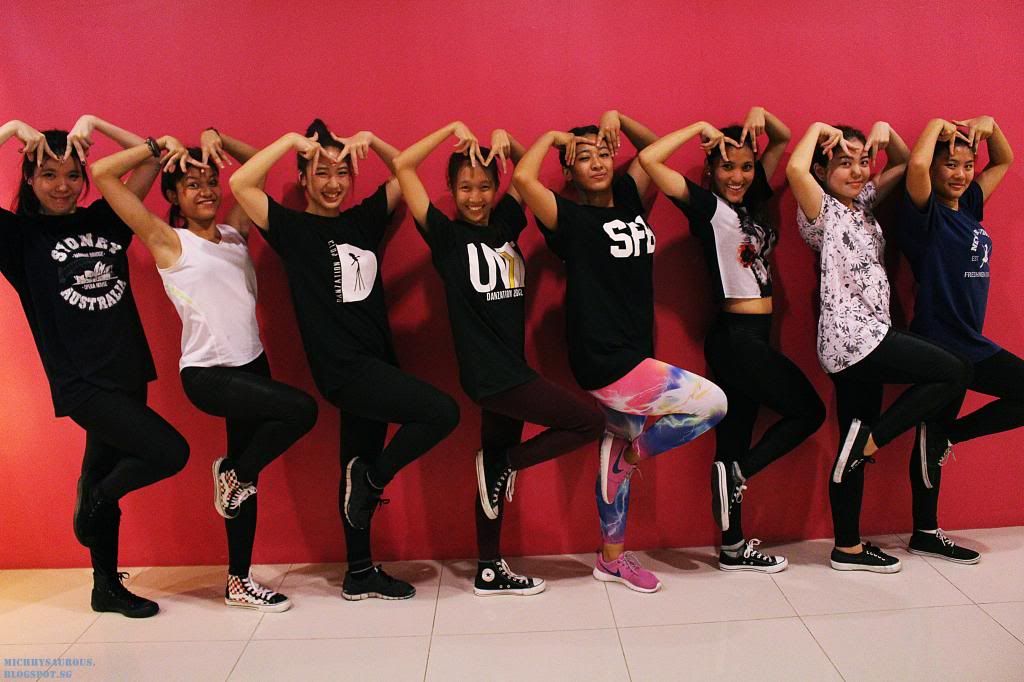 Well, Although they did not win in the finals (on 10th May), their spirit of dance will always be around and I'm sure they will be back, and stronger and sexier! Just a little explanation on their group pose. Their fingers are forming letter "A" and "M", and their arms are forming a lip shape, Interesting huh? :)
Well, I wish the ladies all the best in the dance industry and I hope to see them again soon!
------------------------------------------------------------------------------------------------------------