Through much research and innovation,
Bio-essence
introduces its
new and improved
Tanaka White range, specially formulated to better address dark spots and uneven skin tone with a reinvented 4X Intensive White Serum containing alpha-Arbutin that is
9X
more powerful – so powerful, skin whitening has never been more flawless and effective
The two main reasons behind dark spots formation are freckles and age spots. External factors such as frequent exposure to the sun and harsh elements can cause our skin to be dry and dull, which increases melanin activity in the skin, Which leads to the formation of dark spots and freckles! OMG! Then there is also the internal problem of existing pigments and spots that are embedded deep within the skin that cannot be treated and prevented with any amount of sunblock. Noooooooooooooooooo! Luckily we have the Tanaka White 4X Intensive White Serum to the rescue!
Tanaka White 4X Intensive White Serum - $45.80 (30ml)
The star product of Bio-essence's Tanaka White series - 4X Intensive White Serum, comes with powerful 4X whitening, as it is named. Bio-essence has innovatively combined the 4 powerful and effective whitening agents, Tanaka Extract, alpha-Arbutin, Kojic Acid and Tranexamic Acid to specially formulate the 4X Intensive Whitening Serum, targeting and treating the two causes of darkness.
Direction of use: Apply twice a day after cleansing. Spread a sufficient amount of the serum evenly onto
entire face. Then, apply another layer over areas with dark spots & freckles.
The Double Whitening Day Cream comes with SPF 20, Tanaka Extract and Tranexamic Acid to help suppress excessive production of melanin, protects skin from harmful sunlight and repairs skin for instant fairness from within so that skin glows with crystal clear luminosity. It also helps repair damaged cells and encourage cell renewal. Uniquely formulated with Hyaluronic Acid to keep skin hydrated and moisturized, it is lightly textured with a non-greasy formula to facilitate fast absorption into skin while the Tanaka Extract helps to keep skin cool.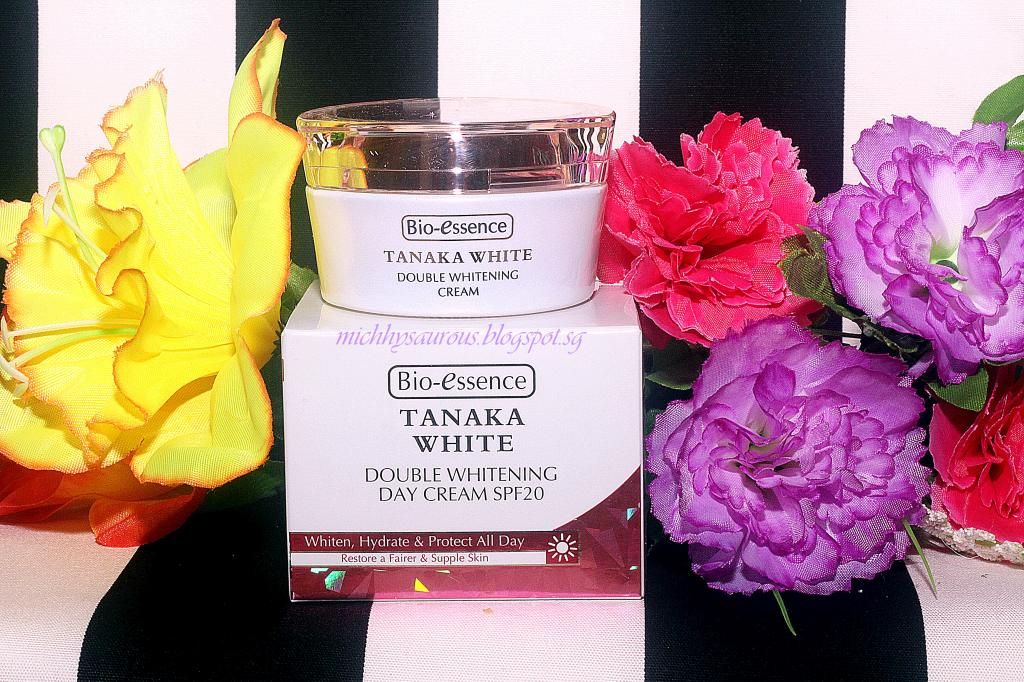 Tanaka White Double Whitening Day Cream SPF20 - $29.80 (50g)
Benefits of Double Whitening Day Cream with SPF20
SPF20 to protect against harmful UV rays
Tanaka Extract shields skin from external pollutants, keeps skin cool and moisturized
Contains Tranexamic Acid to significantly brighten and even out skin tone
Provides skin with trace minerals and precious herbal extracts such as ginseng, angelica, and gingko
Lightens and prevents freckles, dark spots and pigmentation
Direction of use: Apply daily on clean face. Smooth cream evenly onto face until fully absorbed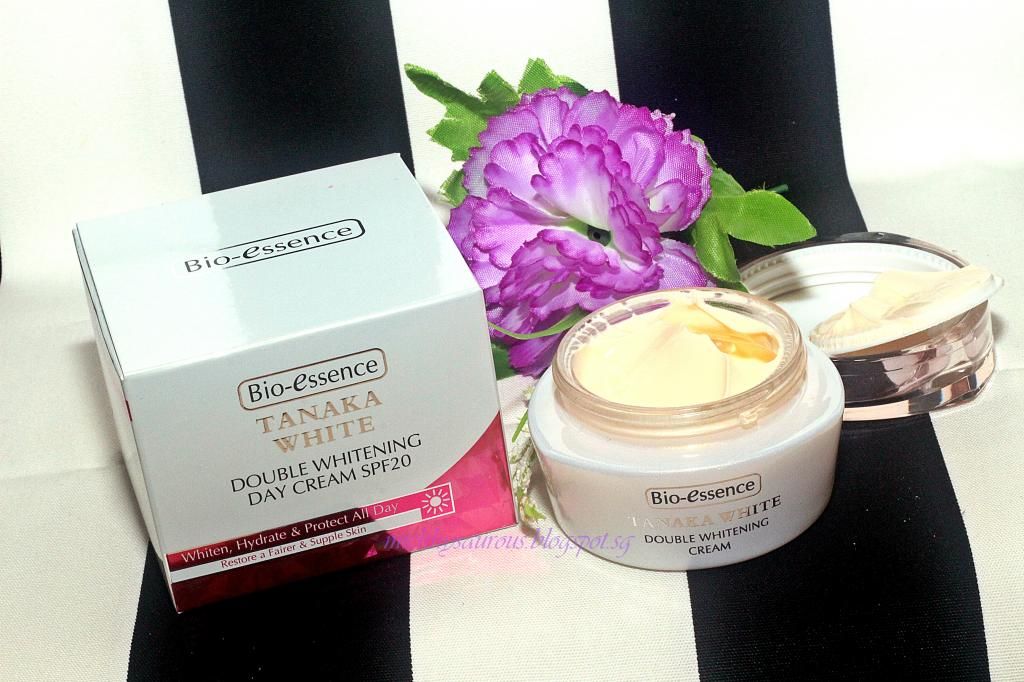 The New & Improved Tanaka White Range is said to give Visible results in just 4 days! How Awesome! Try it out for yourself and let me know of the results!