Happy SG50!! And it's also the 50th year for our Singapore Armed Forces, so it is also SAF50! *Throws Confetti* SAF50@Vivo marks the start of

a

year-long celebration commemorating 50 years of the SAF's formation. Held at VivoCity from 12 to 15 February 2015 from 9AM to 9PM, the SAF's three Services (Army, Navy and Air Force) will come together for an experiential display of military hardware, stories and special performances
I am honored to be invited by the Republic of Singapore Navy(RSN) to sail in from Changi Naval Base to Vivocity with the crew of the Formidable RSS Endurance 207 for SAF50@vivo! Just like the past 2 years, the RSN has been bringing their Landing Ship Tank (LST) to Vivocity for the public to go on board to explore what are the living conditions and also the various facilities on board the LST. This allows the public to gain more knowledge about how our seamen work on the ship and also for the families of the seamen to understand more.
Ratguard to prevent Rats from going up the ship and start chewing on things like ropes
Swift Rescue which took part in the rescue of QZ8501
It's my second time on board the RSS Endurance and everytime on board, it's a brand new experience. This time I've learned of new navy traditions and also why the Toilets are called "Heads". Interested to know? Do ask the ambassadors onboard and I'm sure they are glad to share with you why!
I got to witness the "Slip Off" from CNB and I saw how our seamen worked together, using their strength to pull in the ropes and arranging them neatly for ease of keeping later on, it's tough work under the hot sun, I can't imagine how slippery would the floor be if it was raining and they had to do that, must be even more tedious!
Lifting of The Gangway to prepare of the Slip Off.
While sailing to Vivocity, we passed by some magnificent view which you do not see everyday, even if you took a ferry, it would not be as clear as this. Wonderful photo opportunity for everyone!! So it's selfie time!
And unlike previous years, where we could chit chat and explore all the different screens and buttons in the Bridge, this time round, we are actually sailing, therefore we could not chit chat in the bridge as they meant business and all our lives are depended on their decisions!
Past year in the bridge
This year in the bridge, the atmosphere is very tense, everyone is very focus
While we were sailing, we were briefed about how the ship is steered from the left and the right instead of the way we see on pirates of the caribbean(Picture as shown below). They use advance technologies to control the engines and to direct the ship with instructions from the OOW.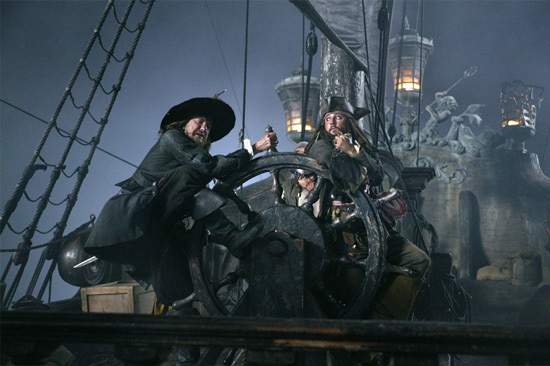 Photo Credit: Google
Looking ahead, we are nearing Vivocity, Spot the sentosa residential areas at the front?
While we were going under the cable cars on the way to vivocity, Its time for another photo opportunity!! You don't even get to snap at this angle any day, so just keep snapping!!
Lieutenant Tan and Me!
Kaman, Susan and Me!
Captain Chong, which I also saw last year!
And now, we are reaching Vivocity, On your left is the Harbourfront Centre. Everyone is gathered together to snap a photo to remember this day, this moment, we were here together.
We've reached!!! Time to park and secure ourselves! Many Navy officers were already waiting for our arrival as well as the public! *Waves*
So while waiting to disembark, we went back inside and took photos with everyone to remember this special day!
Group 7 - Bloggers Group!
Captain Van Huizen and Captain Chong
The always friendly SLTC chew Chun Liang
The Admirable Colonel Thng Chee Meng
After we disembarked and left the guys to do their job, we went to visit the shore exhibitions, there are a total of 4 different Zones - SAF Stories Zone, Experience Zone, Capabilities Zone and Engagement Zone
SAF Stories zone -

Learn more about the history of the SAF in this

immersive exhibition specially curated

to honour those who have contributed towards the defence of our nation and its sovereignty over the last 50 years.
Engagement Zone - Here is where the exciting things are happening around.
1) Name Our Ship Contest: Did you know that RSN is introducing

Eight Littoral Mission Vessels (LMVs) that will be replacing the 11 existing Fearless-class Patrol Vessels (PVs) from the RSN's 182/9 Squadron under the Maritime Security Task Force. And to commemorate the launch of the Navy's LMVs, you can put in your suggestions or bid for the names of these new ships.

Your choice name may be the one to continue the legacy of our vanguards!
2) Tri-Service Photo Booth:
Bring home a photo keepsake!
Besides meeting our servicemen and servicewomen from all three Services,
there will also be a tri-Service photo booth where children can don our SAF uniforms.
3) Giveaways:
Come to VivoCity dressed in anything nautical and stand to walk away with customised limited edition Singapore Navy lollipops! Look out for other special giveaways and collect commemorative items when you participate in our games and quizzes.
Capabilities Zone - Showcasing of our SAF assets and equipment such as the Protector, ScanEagle and HERON Unmanned Aerial Vehicles, Typhoon Gun, Rigid Hull Inflatable Boats, SPYDER air defence system and V200. Climb on board a scaled replica of the Archer-class submarine's conning tower and get up close to a life-sized model of the submarine's heavyweight torpedo. WOW WOW WOW!!
WOW
WOW
WOW
Snap a Photo on the scaled replica of our Archer-Class submarine's conning tower for a memory keepsake! You don't get this chance every year do you? :)
With so many things to see and experience, Why are you still seated on your computer and not making plans to head down to Vivocity! Hahaha, No Tickets? Don't Worry,

For those who did not manage to ballot for tickets online, there will be a ticket draw on-site that will be opened to all. Balloting time slots are: 3pm to 6pm (Thurs & Fri), 9am to 11am, 1230pm to 2.30pm, 4pm to 6pm (on Sat), and 9am to 12pm, 3pm to 6pm (on Sun). So confirm got chance to get tickets to board the Ship one, Go try Go try!!
And Since this weekend is Valentines Day, why not go for a different kind of date this year and widen your knowledge about our RSAF and the different experience & stories.
- - - - - - - - - - - - - - - - - - - - - - - - - - - - - - - - - - - - - - - - - - - - - - - - - - - - - - - - - - - - - - - - - - - - - - - - -
Pssst! I heard that the Ah Boys To Men Cast will be on board the RSS Endurance for a meet & greet on Valentines Day, So If you want to see them, remember to go try your luck at getting tickets at the shore exhibition engagement area!
I truly enjoyed myself on board and I hope you do to, here's wishing you fair winds and following seas!
With Love, M
♥