I always love Christmas Platters and I am always impressed with Morganfield's Sharing Platters, What more their Christmas Platter! YAY! I was delighted to be invited to their new Suntec City Outlet for a Christmas Tasting session along with a few other blogger friends!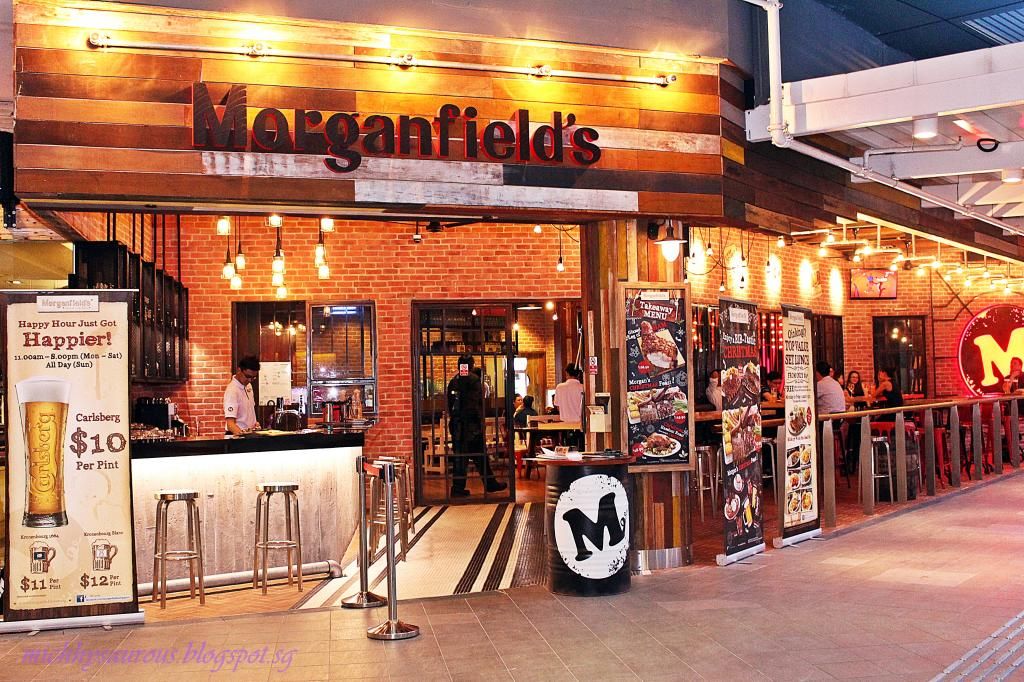 Let's start with some delightful drinks. The White Christmas Sangria - $16.90++ is a mixture of white wine, Peach puree, diced apples & oranges, a little alcohol won't do any harm right? And the Red Christmas Cooler - $8.90++ Lemon, Watermelon, Cranberry with Frozen Blackberries is a non-alcoholic version.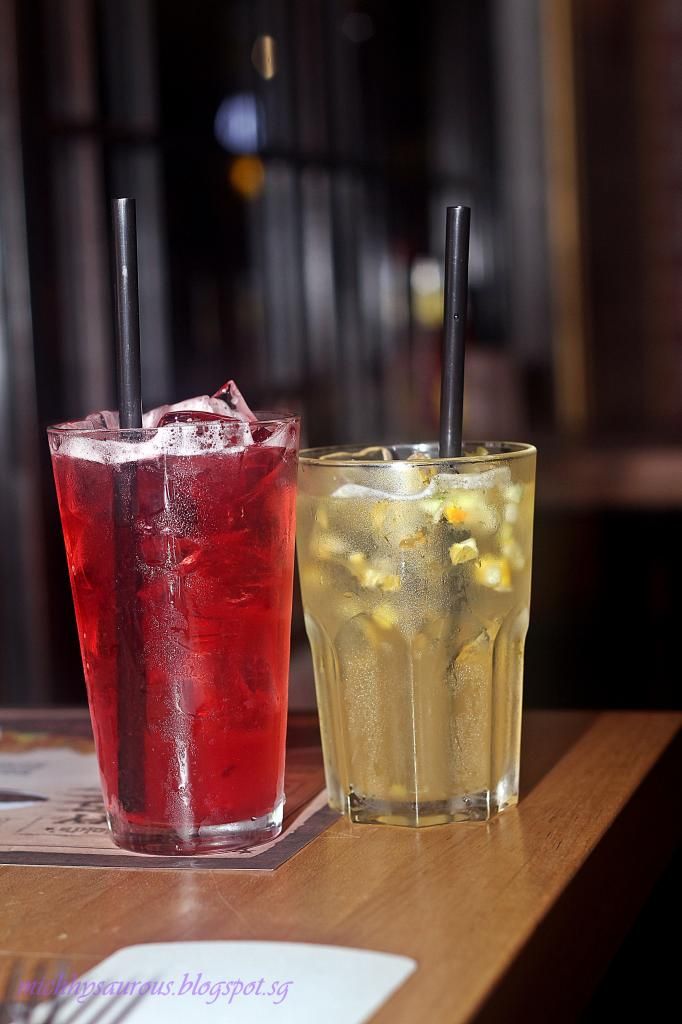 Hmm, Starting off with a Bang was the Highly Anticipated Beer Candied Bacon!!! Who can resist Bacon ??? I love Bacon! It taste just like ang moh bak kwa!! Everyone should try!!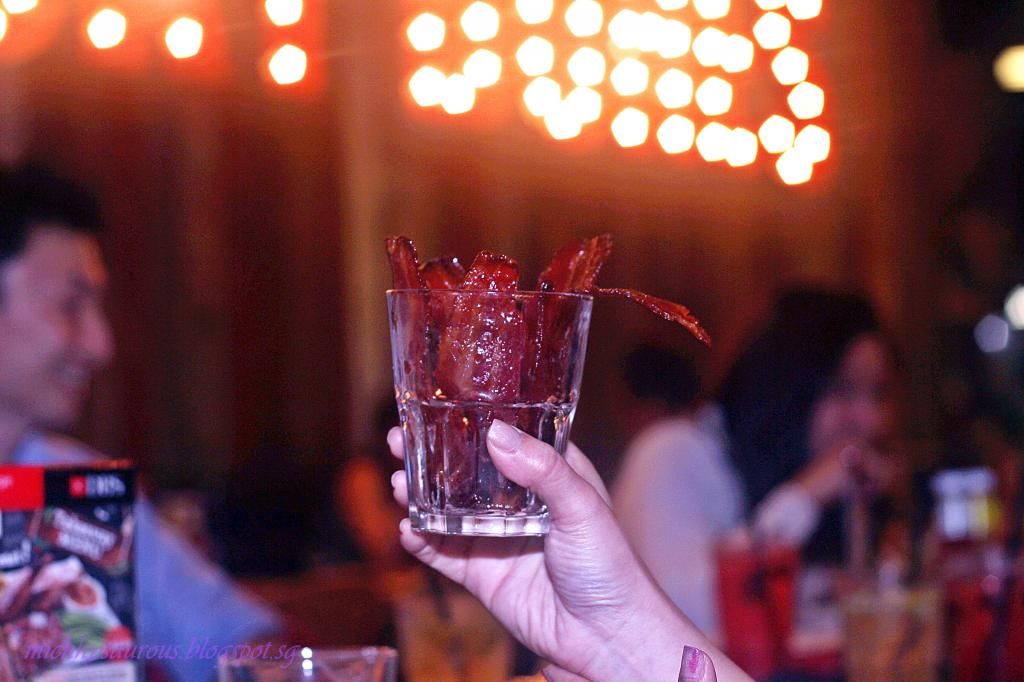 Beer Candied Bacon - $8.90++
Basketful of Pork - Beer Candied Bacon again, with Popcorn Pork and Pork Bratwurst

accompanied with Ranch sauce! Such a delicious basket to start the night of feasting rolling~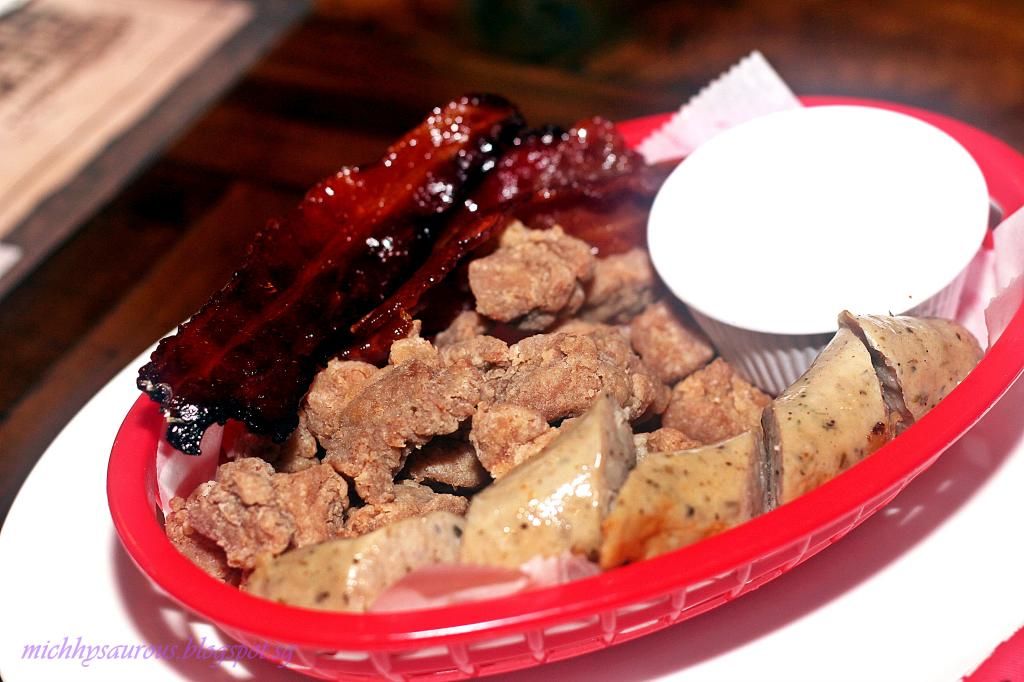 Basketful of Pork - $15.90++
HUGEEEEEEEEEEEE LEG of Ham! This huge baby here is about 4-5KG. The Bourbon Marmalade Glazed Leg of Ham has the best glazed skin that night, Hands(leg) Down! Sweet yet savory, the aromatic feels in my mouth, the fats that melts on palete.. I Highly recommend it to everyone!!
Bourbon Marmalade Glazed Leg of Ham - $168.90++ (Available for Delivery)
Christmas Hazelnut Roast Chicken is the perfect size for a family of 4 to get a little festive celebration! The

beautifully browned whole spring chicken (800-900g) contains traditional chestnut stuffing. Laid with breadcrumbs for that extra crunch for a better contrast of textures with the tender juicy meat in your mouth!
Christmas Hazelnut Roast Chicken - $28.90++ (Available for Delivery)
This year, Morganfield's Singapore is introducing 2 special Christmas edition Sticky Bones sauces to bring Christmas cheers - They are the American Rouge Hazelnut Nectar and the Cranberry Sticky Bones. Accompanied with the many delicious sides such as Roasted Carrots & Potatoes, Assorted Sausages, Cornbread, Caramelized Onions, French Beans and 2 Huge Turkey Legs!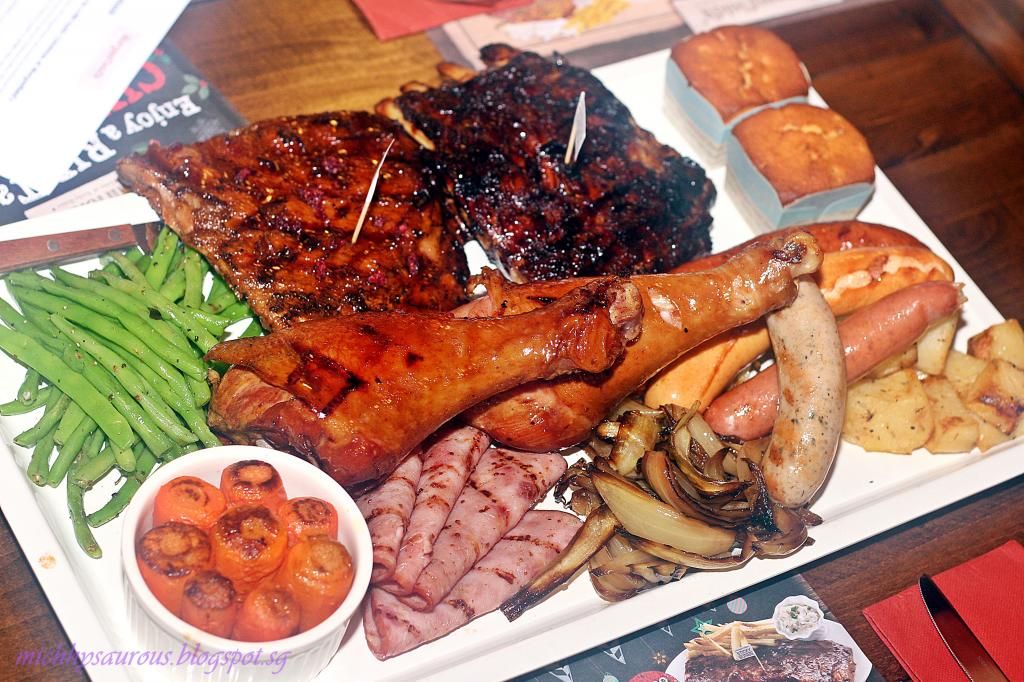 This huge platter has enough meat to feed my family for days, OR a group of 5- 6 friends or even more if you have small eaters in your group! Everything is so delicious on this platter. The christmas sticky bones are fork tender, making it really easy to eat but of course it would have more flavour if you ate with your hands, I'm not lying, Try it! The huge turkey leg is a real surprise because it was still so tender and juicy despite it's size, we were all skeptical at first. There is still ham, assorted sausages, Cornbread, roasted vegetables.. Looking at this makes me salivate again.. ♥
Morganfield's Christmas Platter - $149.90++
And it's never a complete meal without desserts in my opinion. The Cranberry 'n' Peach Crumble is a Hot & Cold combination, bringing you the best of both worlds! The fresh fruits somehow cleanses all the grease from the platter and the ice cream is just... Heavenly when paired with the warm crumble.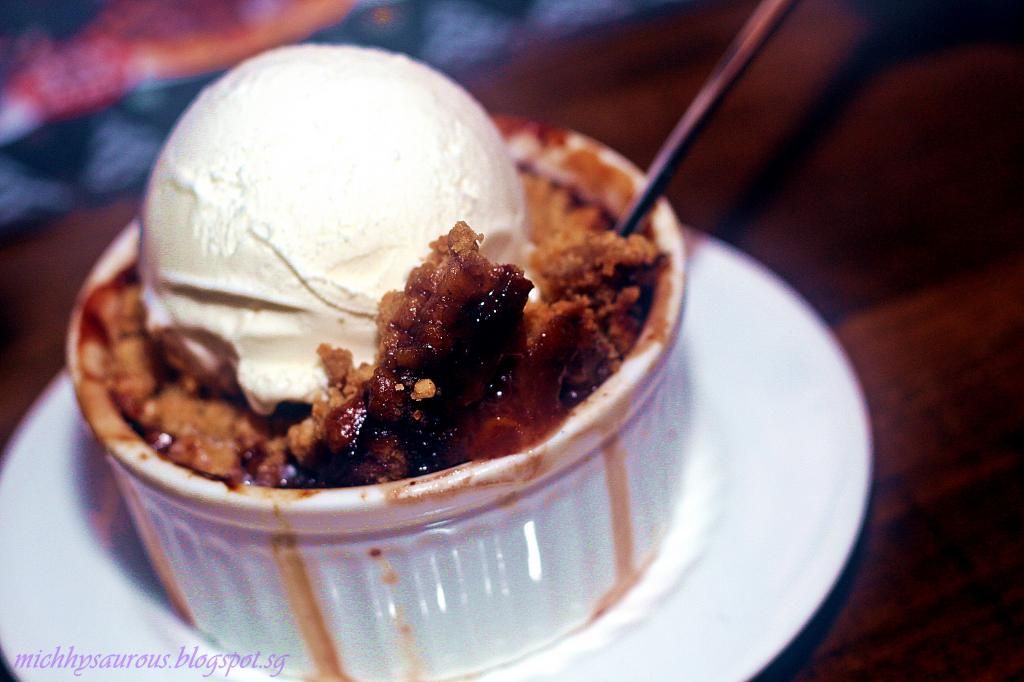 Cranberry 'n' Peach Crumble - $13.90 (Top-Up $8.90 for this with every Christmas platter purchase!!)
Did you spot the 2 items that are available for delivery? They are the Bourbon Marmalade Leg of Ham and the Christmas Hazelnut Roast Chicken.
Delivery & collection starts from now till 28 Dec and orders must be made at least 5 days in advance.
All deliveries are subjected to a delivery fee of $25
To order please call the respective outlets:
The Star Vista: 6694 3635 / Suntec: 6736 1136 or you could go online to order at
www.morganfields.com.sg
Christmas is best spent with those who are worth it! Cheers!
facebook
page and have a awesome Christmas everyone!
With Love, M
♥