ANNYEONG HASAEYO~
Recently I have really crazy cravings for Korean BBQ, maybe its the cause of watching too much ROOMMATE(I'm only at Ep 16 now) and all of them are so cute and real with all the real emotions! They have an ep where they had a BBQ outdoor, oh that looks SUPER good, and the episode where they went to Japan to eat the Kobe beef, oh my god.. Haha! All the meat!!
Kkongdon's well-marinated meats follow the authentic Korean formula with a local flair for a minimum of 8 hours before serving, promise a gastronomic pleasure as diners enjoy the experience of barbecuing to their preferred level of meat doneness. Prices start at
$19.80++ for adults
and
$12++ for child
, diners who root for lighter and healthier fare should look no further to order the lightly marinated selection and try on the wholesome Ginseng Chicken Soup or the flavorsome beef ribs soup from the add on menu. Looking for something to zest up the gathering, the spicy marinated meats and iconic Bulgogi marinated chicken are must try!
Korean BBQ are best with Friends or Family! The more the merrier!
Notice the slanted pan layout? This is kkongdon BBQ's effort to keep the grease out of your pan so that it would not be that sinful to indulge in afew more pieces, So thoughtful la!! And also, they lay grease paper atop the grill so that there will be less charring and it prevents the meat from sticking to the pan. WOW man, just WOW at all the thoughts for the maximum enjoyment of the customers!
Kkongdon Barbeque has the competitive price of $19.80++ for ADULTS on WEEKDAYS MON-THURS ALL DAY! SUPER WORTH IT LA! Looking at what you get, It is super worth your money!! Did you see the 30 Days Aged Chilled NZ Sirloin Cut???? Woooohooo!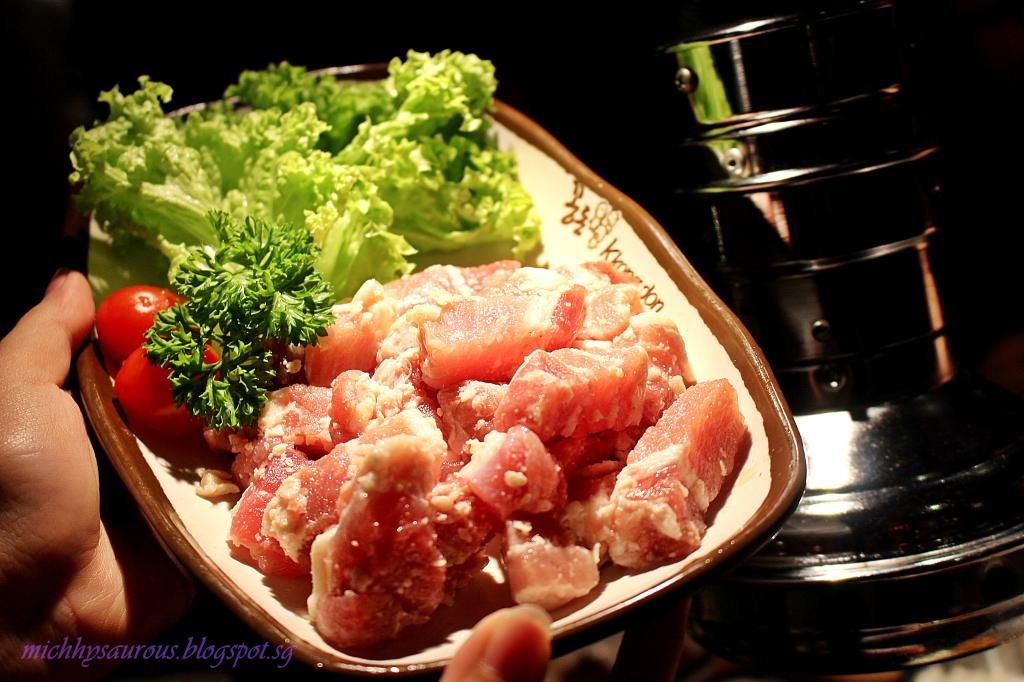 Ala-Carte Order: Pork Belly
Appetizers
– Choose from Kkongdon's Kimchi Pancake (Kimchi Buchimgae) or the Steamed Egg (Gaeranjjim). The firm-textured pancake presents itself with kimchi chunks, and a mild spicy sour flavour to whet an appetite for a feast whereas the Steamed Egg has a light texture exudes a fragrant aroma.
Soups & Stew
– Choose between the Ginseng Chicken Soup (Samgetang), or Beef Rib Soup (Galbitang). Made from ingredients imported from Korea, these soups promise authentic flavours and provides a nourishing fix. The Pork Belly Kimchi Stew (Kimchijjim Jeongol) is presented in Korean earthenware with pork belly slices, kimchi, tofu, enoki mushrooms and a generous amount of soup, so good you just want to go for another one! I love all their soup & stew!!
The Oh So Famous Galbitang (Beef Short Rib Soup) that I've heard about So many times on Roomate and Korean Drama. I finally got to try it and OH MY GOD! The Beef seem to have held in place, but the moment it touched my tongue, it started to fall apart O-O SOOOOOOOOO Tender omg. I was afraid of the beefy smell/taste in the soup but don't have! Kkongdon BBQ chef are very clever, they used a variety of mushrooms to cover up the smell and the soup was so delightful that we all wanted a 2nd serving! SUPER Recommended!!
Thank you Kkongdon Korean BBQ for this invite.
On another note, how did you spend your christmas? How are you going to spend your NYE?
I've been so lazy this festive season and I've not been blogging. #guilty
But I'm ready to welcome 2015 and I hope it will be a much better year than 2014!!