Located in the old condo estate along Marine Parade's Laguna Park Condo, Diamond Kitchen is here offering you the comfort of our local zi-char fare at a place you would not have imagined.
But why in a spot like Laguna Park Condo rather than a prime spot in town areas you ask. Young Entrepreneurs Josh Chou & Lambert Chen wanted to avoid the high cost of rental so that they could present affordable food for us, but still, no one is actually sure how great this will turn out since it's only customer base might only be the condo residents. But after trying them out, I'm sure there are more to just the residents.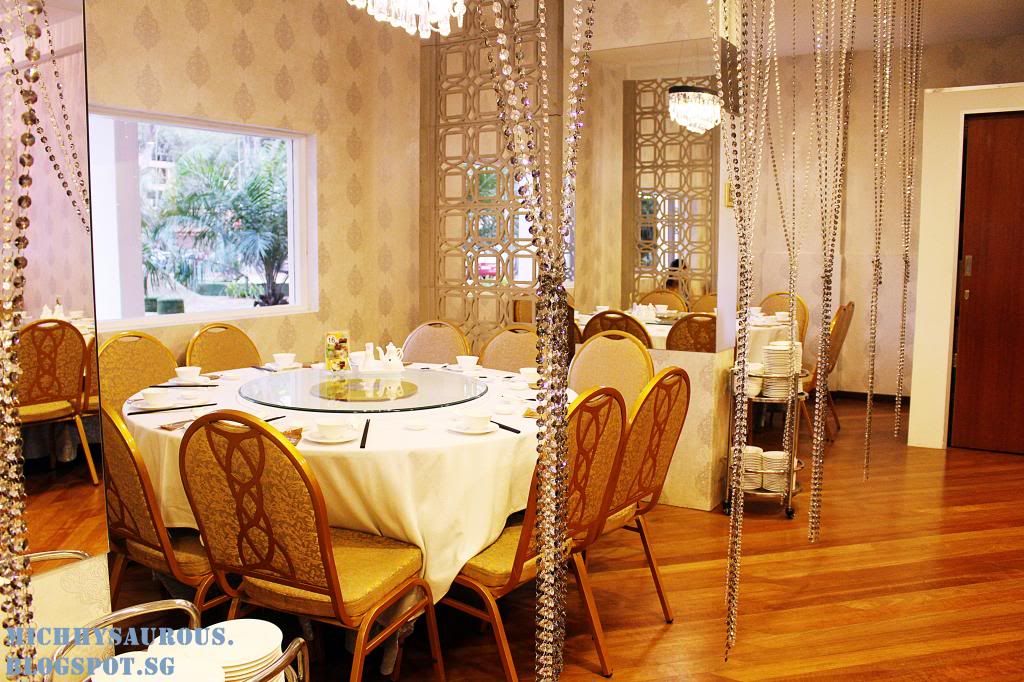 The Bee Hoon is cooked in a thick superior stock and has the added sweetness from the generous helping of fresh clams and wolfberries tossed in before serving. The stock was something that we could not stop craving for, and the clams are intact with each shell, which made no disappointment.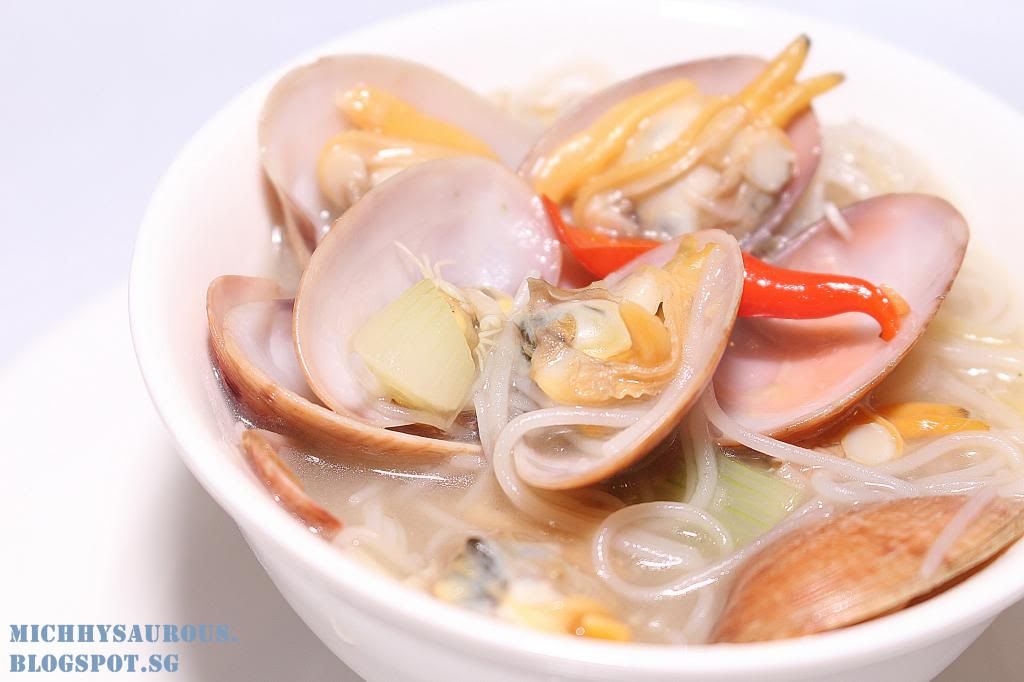 Superior Stock Clam Bee Hoon ($12/ $18/ $24)
The Special Sauna Prawns is an alternative to the favourite Drunken Prawns. Love Tiger Prawns are set atop a layer of hot stones in a bamboo basket and the herbal stock which is cooked with Chinese Wine, Wolfberries and Dang Gui is poured over the prawns and the lid goes right after to keep the steam in to cook the prawns in a sauna bath. In my personal view, Prawns were fresh but it lacks the herbal taste or to say the flavour of the stock.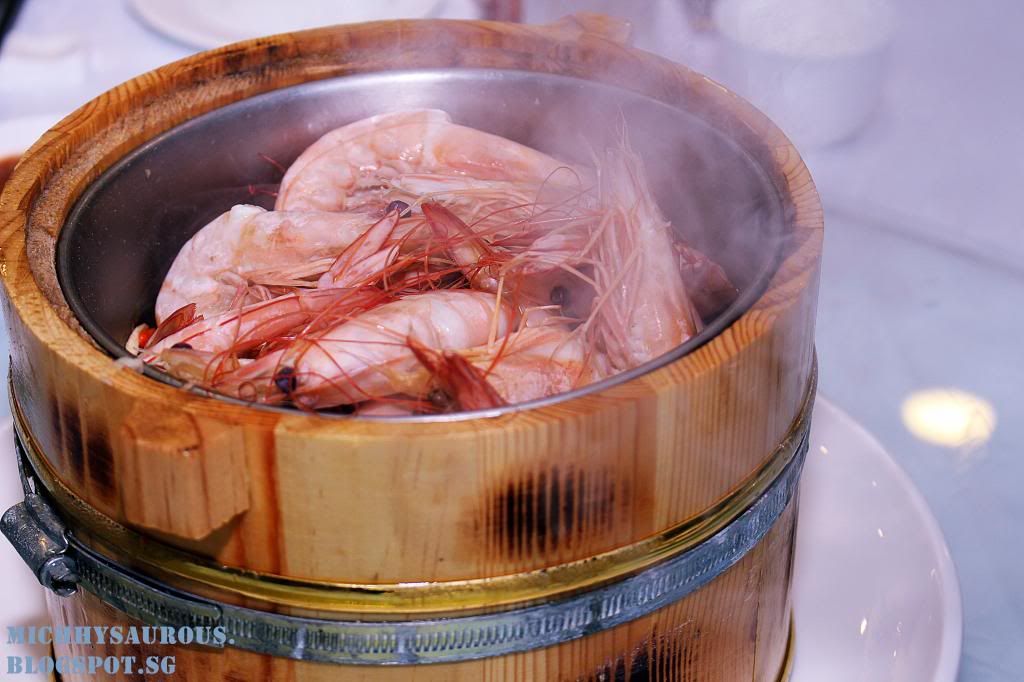 Sauna Prawns ($24/ $36 / $48)
Homemade beancurd fried to beautiful golden colour, then swimming in a pool of rich & sweet pumpkin puree which has bits of prawn and crabmeat in it. Tender Tofu paired with the delectable sauce, I woul love this on my rice anytime!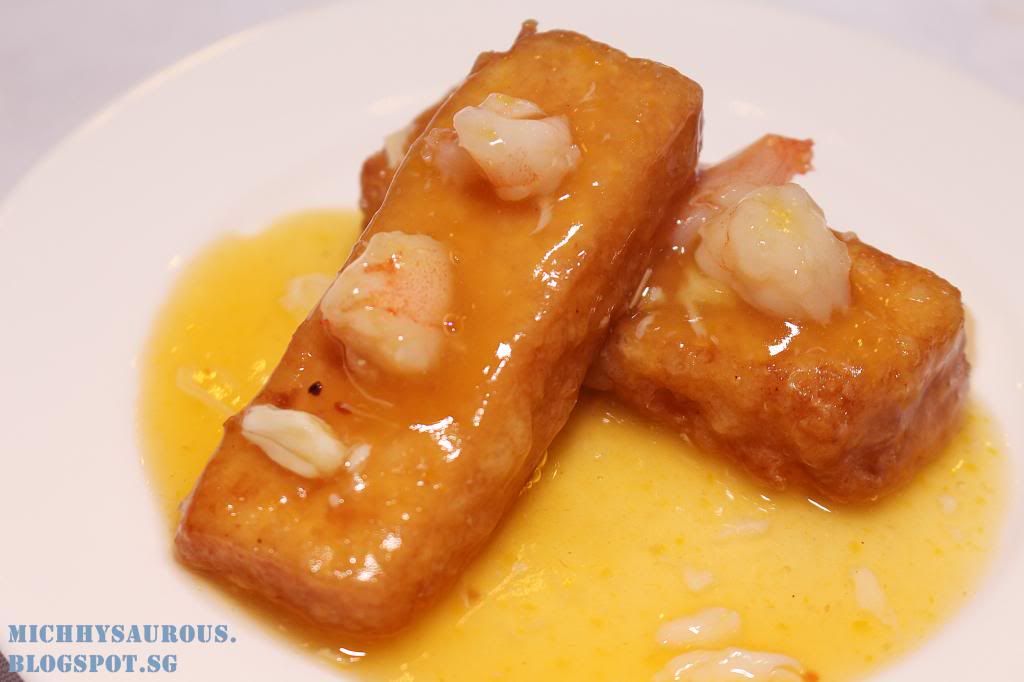 Pumpkin Beancurd ($12/ $18/ $24)
My Favourite of the night would be this champagne pork ribs, Tender pieces of pork strips evenly coated with the sauce which wasn't too sweet or too bland, perfect even for kids, I can't find a reason not to love it.
Champagne Pork Ribs ($12/ $18/ $24)
Salted Egg Sotong ($12/ $18/ $24)
Usually we get our cereal with prawns but Diamond Kitchen has decided to mix it with fried chicken cubes, Not as great as when paired with prawns, chicken cubes & cereal were not well executed together in my opinion.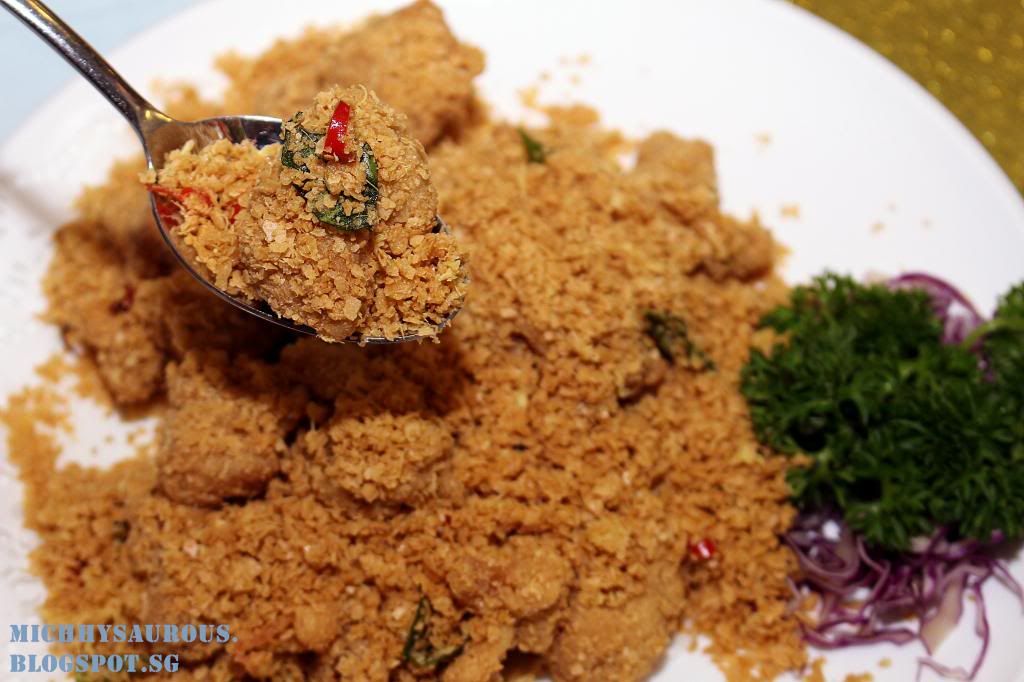 Golden Cereal Chicken ($12/ $18/ $24)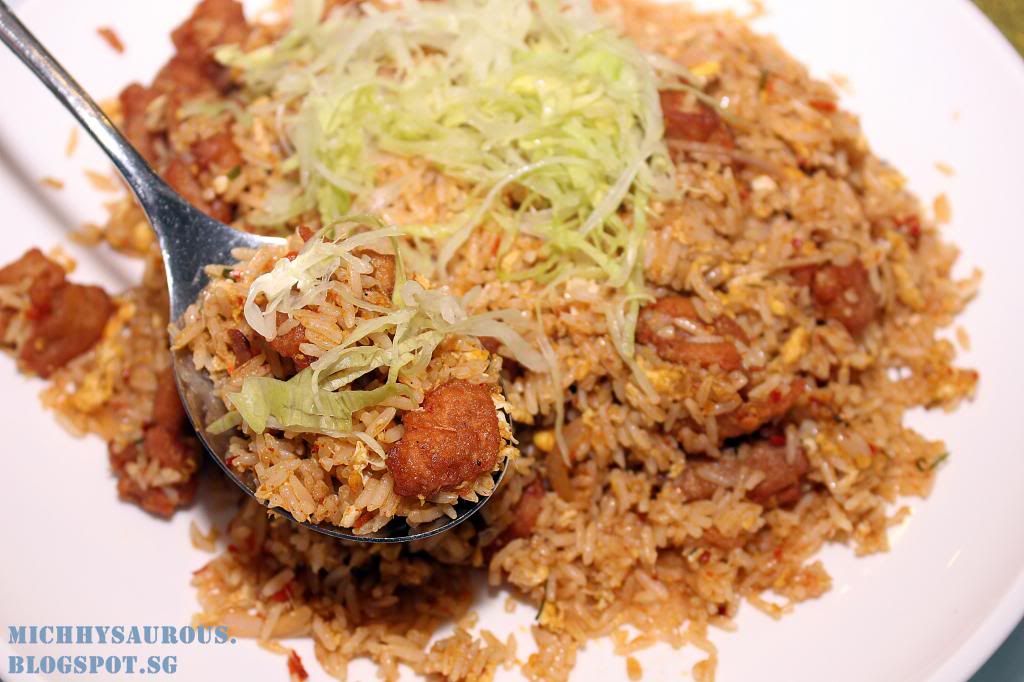 Gan Xiang Fried Rice ($8/ $12/ $16)
Sri Lankan Crabs are used in this Gan Xiang Crab and I prefer it to the former. The Gan Xiang Flavour is prepared by deep-frying Hae Bee Hiam(spicy dried shrimp), Curry Powder, Lemongrass, Dried Chilli, Taucheo(fermented soy bean paste) and other secret ingredients. But it is not too over powering and not too spicy when paired with the fresh and sweet crab meat which made everyone at the table going for seconds!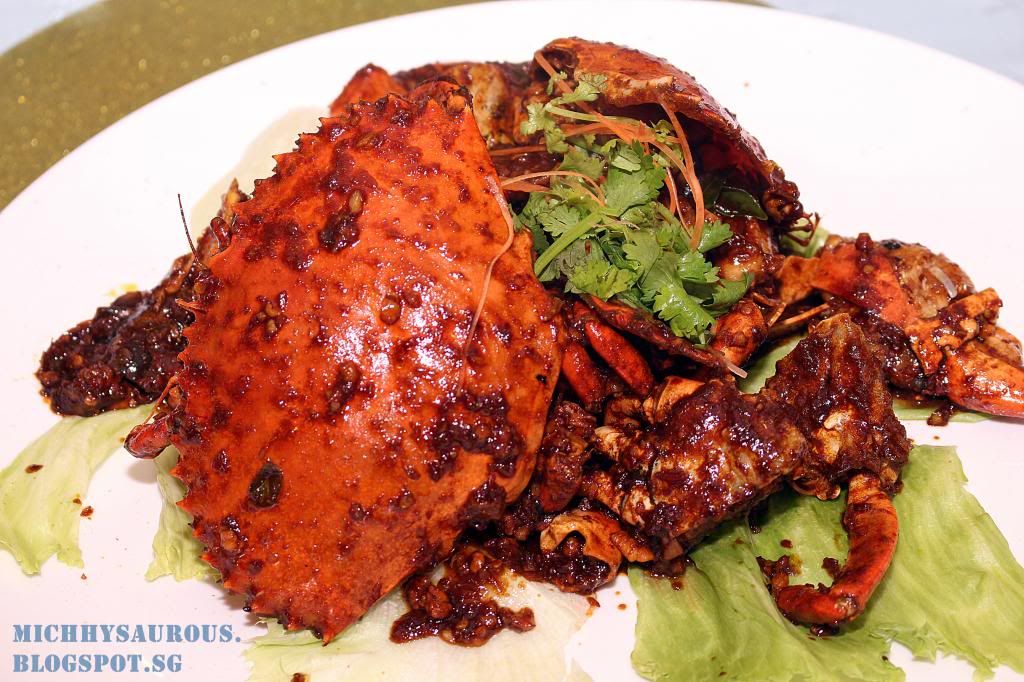 Gan Xiang Crab (est $55/KG)
Smooth Yam Paste is not overly sweet like how some places serve, pumpkin & ginko nuts were soft and complemented the yam paste well. Of course there are other dessert options on the menu like Lemongrass jelly ($4.50/pax) or for an extravagant ending, opt for the Hashima($12/pax) or Bird's Nest($20/pax).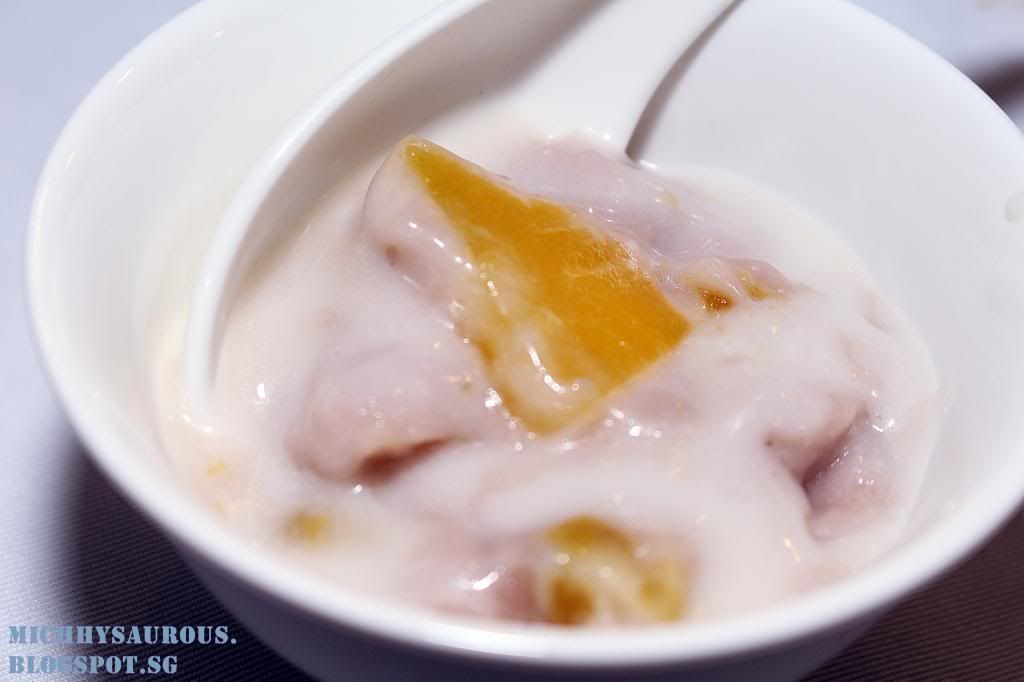 Pumpkin & Ginko Yam Paste ($12/ $24)
Diamond Kitchen
5000F Marine Parade Road #01-22/23
Laguna Park Condo Singapore 449289
Tel: 6448 0629
Website: diamondkitchen.com.sg
OPS: Daily 1100 - 1430, 1730 - 2300
Parking: Visitor Carpark is available at Laguna Park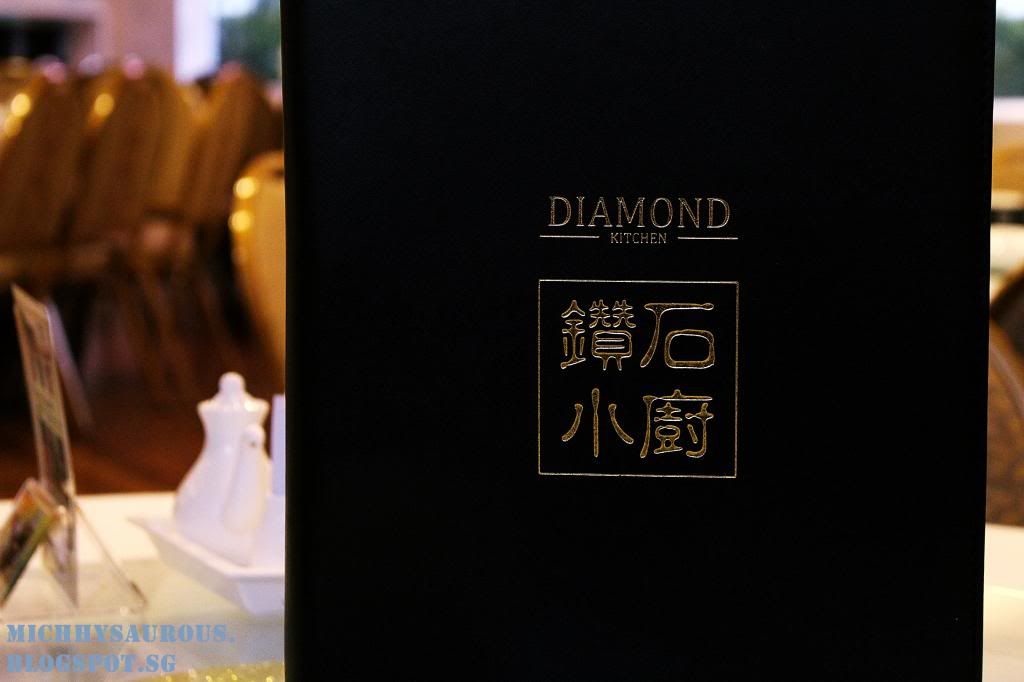 I would love to come back to Diamond Kitchen for a meal soon!